The Babydoll Dress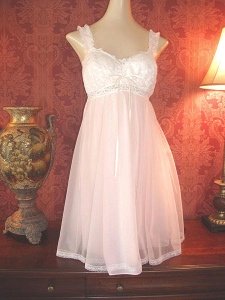 In 1956's Baby Doll, a pretty 19-year-old virgin (played by Carroll Baker) becomes the pawn in a power struggle between her husband, a middle-aged cotton gin owner, and a Sicilian businessman. Baby Doll (yes, that's her name) still sleeps in a crib, sucks her thumb and wears a "babydoll dress," or rather a white slip that ended just at the top of her thigh, exposing her white underpants beneath. Her husband can't touch her until her twentieth birthday, but she doesn't want to touch him, especially when the Sicilian businessman comes along.
By today's standards, the movie is fairly tame, but by 1956 standards it was outrageous. The movie was denounced by the Catholic Legion of Decency, and Time magazine called it "the dirtiest American-made motion picture that had ever been legally exhibited." Of course, this only increased its popularity and influence.
Carrol Baker's "babydoll dress," or short, white negligee, was quickly seen as a desirable and sexy look. Baby Doll's sexual teasing, which sent her on-screen husband into a tizzy, was part of the appeal: she would get up close to her husband and laugh at him for getting flustered. Babydoll dresses were quickly associated not only with youth, but with sexualized childishness.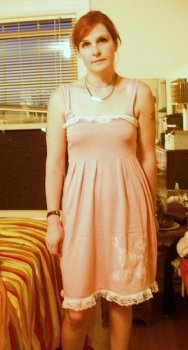 As time went on, the babydoll included not just light, translucent slips, but short daywear dresses with a childish cut and pattern. These dresses usually had a formed bust with an attached, loose-fitting skirt, along with patterns of lace, ruffles, and bows and ribbons. Any childlike dress could be reasonably considered a babydoll, especially if it had short sleeves and a square or Peter Pan collar.
It was this look that became popular with the kinderwhore and riot grrrl movements of the early 1990s. Combining childlike innocence with aggressive, forward sexuality––or feminist politics––was seen as an act of rebellion, or reclaiming one's childhood from an abusive past.
Related Reading:
---
babydoll dress photo by Tranquil Garden, used under a CC Attribution-ShareAlike license.
woman in a babydoll dress photo by iluvrhinestones, used under a CC Attribution-ShareAlike license.
Return to our women's dresses section.
Return to Enjoy Your Style's home page.
Not what you're looking for? Find it, below: