Bobbi Brown Shimmer Brick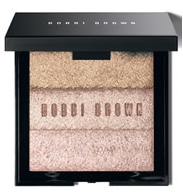 The Bobbi Brown Shimmer Brick is a compact luminizing powder, usually with three to five horizontal stripes of different, but complementing, hues.
"Luminizers" give you an all-over pearlescent glow, subtler and less noticeable that glitter. Luminizers come in liquid, cream and powder forms. This is a compact powder, making it easy to bring with you in your purse or on your person.
These Shimmer Bricks come in five different color palettes: beach, beige, bronze, nectar, pink quartz and rose. What palette you use depends on your skin tone.
Makeupalley users give the product a 4.3/5 rating. "[Bronze color] Looks great on olive to dark skin tones," grayeyes043 reported, "and it looks great when you want a natural glowy look with toned down makeup." Others were less enthusiastic. "This has soo much sheen/glitter it was like glitters galore," kathrynb23 wrote about the rose-colored shimmer brick. "Barely [any] colour showed up at all, either as blush or eye shadow. The glitter just over powers everything."
Buy Bobbi Brown Shimmer Brick
at Amazon.com
.
Related Reading:
Lady Gaga, A Dissenting Opinion
Join in and write your own makeup review! It's easy to do. How? Simply visit our Makeup Reviews page and fill out the form. We'll e-mail you when it's published.
---
Return to Enjoy Your Style's makeup section.
Return to Enjoy Your Style's makeup brands section.
Return to Enjoy Your Style's home page.
Search Enjoy Your Style: