The Best Black Lipstick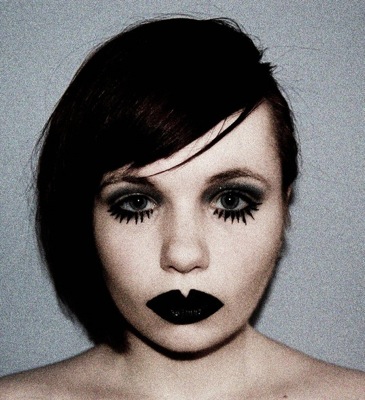 So you want to find the best black lipstick. Yes, you could wait until October 15th and get the cheap crap they sell at Walgreen's. Why? It won't look too good and, as time goes by, it'll just look worse and worse.
Still––does anyone sell high-quality black lipstick? If it's designer, can I afford it without taking out a second mortgage? And what about black lipgloss?
The answers to these questions are: yes; yes, unless you live in a cardboard box; yes. Here is our list of the best black lipsticks, and black lipglosses, on the market in 2010.
7. Nyx's Round Lipstick in "Penelope" - $4
Effect: Shiny, Pure Black
Pros: Moisturizing, Has Many "Almost Black" shades (such as the one above, and Almost Black 564)
Cons: Shiny; many goths prefer a matte look.

The cheapest, and some say the best, black lipstick on the market. Nyx's high quality cosmetics deserve their reputation. This is the same price as a Walgreen's Halloween black lipstick, but the formula is longer-lasting and non-drying, unlike the generic Walgreen's tubes.
6. Stargazer Lipstick #110 - £3.00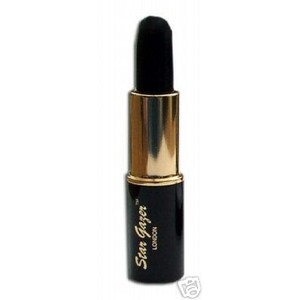 Effect: Opaque
Pros: Smooth Application, Cheap, Great Coverage
Cons:

This UK brand is, in the words of Gothique, "not quite MAC, not quite Wet'n'Wild." Cheap but well-made, Stargazer features many unique and inventive shades, from black to white to blue to bright orange. If you're looking for it in the US, I would suggest browsing eBay; plenty of resellers will ship internationally.
5. Manic Panic's Raven Lipstick - $9
Effect: Glossy
Pros: Good price,
Cons: Smears and rubs off easily

Manic Panic also has "off-black" lipstick colors, including lethal black
and black rose burgundy
.
4. MAC's "Black Knight" and "Midnight Media Mattene"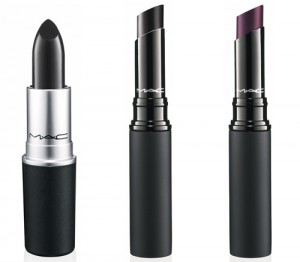 Effect: Glossy, Burgundy-Black (Black Knight), Matte, Almost Black, Semi-Opaque (Midnight Media Mattene)
Pros: Long Lasting, Smooth Application, Non-Drying
Cons: Lacks color density, Discontinued (but, as of this writing, widely available on EBay, unused)

MAC Cosmetics are justly famous for their high quality. MAC's limited edition "MAC Style Black" took the black lipstick trend––huge in fall 2009––and made it explode.
3. Lipstick Queen's "Black Tie Optional" - $18
Effect: Matte Grey
Pros: Subtle, Even Coverage, Fades slowly
Cons: "Not Black Enough"

Lipstick Queen's "Black Tie Optional" lipstick, on its own, is a subtle grey with a darker undertone. With Lipstick Queen's Black Shine ($22) and you can have extremely glossy lips.
2. Lord & Berry Vogue Matte Lipstick in Black Red - £9.95
Effect: Black Red, Matte
Pros: Nice Color, Long Lasting
Cons: Stiff Application

Even with shipping, this lipstick is about as expensive as other items on this list. It's a black with a red undertone, leading to a deep purple, or "bruised violet," color. Looks dynamite on people with yellow-undertoned skin, such as blondes and asians.
1. Illamasqua's "Pristine" Lipstick - $20
Effect:
Matte, Intense Pigment
Pros:
Long Lasting, Kiss Proof, Smooth Application, Non-Drying
Cons:
Can Be Difficult to Remove
Illamasqua is justly famous for its long-lasting lipsticks, which come in a variety of fun and funky colors, from metallic glitter to deep purple. Of the lipsticks I tried, this was by far the best. Unless you're going to give it to charity, few $20 bills are better spent than on this lipstick.
Now, without further ado, here are the...
Best Black Lipglosses
2. Lancome's Color Fever Gloss in Piha Black
Effect: Black Glitter
Pros: Non-Sticky, Long Lasting
Cons: Discontinued (But still available on EBay)

This is the product that started it all. Lancome's black lipgloss, as well as MAC's black lipstick, both heralded the resurgence in interest in black lipstick as a trend.
1. Yves Saint Laurent PUR Black Lip Gloss - $29
Effect: Shiny, Black with purple undertone, No Glitter
Pros: Non-Sticky, Subtle Fruity Smell
Cons: Not Long Lasting, Have to Blend to get optimum effect, Limited Edition (but still available on EBay and and Amazon
)

Related Reading:
Beatnik Fashion - Get the Beatnik Look
---
Above photo by Amy Clarke.
This article owes a debt of gratitude to Temptalia's MAC Style Black reviews, which inspired the article and provided essential information.
Return to Enjoy Your Style's makeup section.
Return to Enjoy Your Style's home page.
Search Enjoy Your Style: