Emo Hairstyles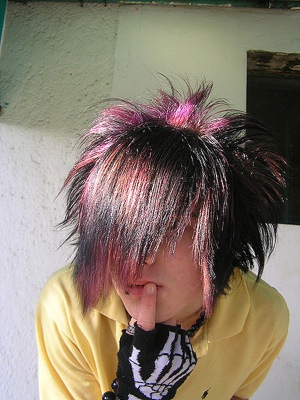 Emo hairstyles are usually high maintenance, often with some kind of hair coloring or highlighting in the hair. Long, sideswept bangs, backcombed hair, and multicolor streaks and highlights are all hallmarks of emo hair.
Unlike rockabillies, emos prefer their bangs to be as long as possible, often to conceal the eyes, forehead or entire face. When bangs might obscure the vision, many people sweep them to one side of the face, then hold them in place with hair gel or hair pins.
Bangs are an essential element of emo haircuts, even for men. Often bangs come from far back on the head, event the crown. Though it's possible to be emo without bangs, emo haircuts almost always have bangs or a fringe.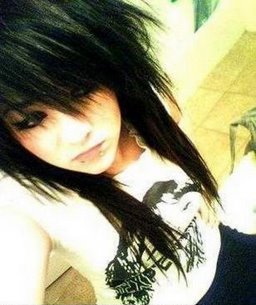 Some people "emo-tify" their regular hairstyle by combing all their hair in front of the face, then sweeping this hair to one side so they can see (at least in theory). Others simply go without a haircut for several months. These are low-maintenance ways to get an emo hairstyle, but they will not necessarily look good.
Emo hairstyles come in two varieties: short and long. Short emo hairstyles are not actually that short; the bangs are usually longer than the rest of the hair, as in this page's first photo, with the rest of the hair on the head being about 3" long. Long emo hairstyles are usually layered cuts with razor-cut, "piece-y" sections.
"Softness" is a word foreign to emo culture. Emo hairstyles are all sharp angles, hard, gelled sections of hair, and long bangs swept over the face to conceal it.
Getting an Emo Hairstyle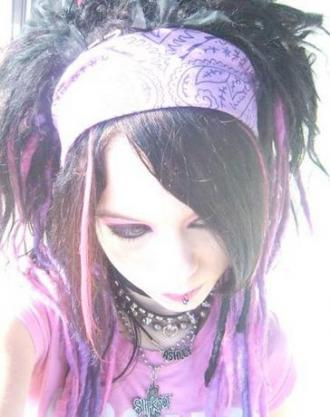 One of the most important elements of any haircut is the hairdresser. Find a hairdresser who you can trust with your hair, who will listen to and follow your directions. This will also prevent your hairstyle from looking horrible two weeks later.
If you're looking for a Japanese-style cut, consider finding a hairstylist experienced with nihindo, or traditional Japanese razor-cutting tools.
Once you find this hairdresser, ask for a layered razor cut, at an angle. This will give your hair a very emo look, even if your bangs are normal or nonexistent.
Finally, don't feel obliged to get really long bangs just because it's "the thing." If you want to keep your bangs short, just do it. It's your hair and your head. Use the latter when designing the former!
Related Reading:
---
Black Haired emo girl photo by Nichole.marie.johnson
Emo hairstyle multicolor photo by Some of my piix
Return to Enjoy Your Style's subcultures section.
Return to Enjoy Your Style's home page.
Search Enjoy Your Style: