Paradise Kiss by Ai Yazawa - A Book Review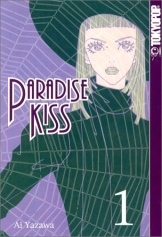 Paradise Kiss
is a manga drawn and written by Ai Yazawa. The protagonist, Yukari Hayasaka, is a high school student who has grown tired of her meaningless life, studying and studying for an exam she's not sure she wants to take. Fatefully, a pair of "weirdos" from a fashion school "kidnap" her and ask her to be their model for their upcoming show. Initially off-put by their "weirdness," Yukari realizes that their more interesting and meaningful lives are just what she's been looking for. Happily, she accepts the modeling job...only to have life come crashing down around her.
Enter the antagonist: George Koizumi is the bisexual genius behind "Paradise Kiss," the eponymous fashion label he, and his friends, are creating while in school. Running a fashion business is no joke, but luckily George, and his friends, have connections in the industry.
I won't spoil any plot points, save to say that Ms. Hayasaka actually feels better when her life falls apart. As strange as this may sound (especially without qualifiers), it's psychologically realistic. As Yukari enters the "real world," she makes many mistakes, offends other people, unintentionally burns bridges––all the things you'd expect from someone in their late teens. The manga does not present a rosy fantasy of life after school, but it shows how other people, as well as one's own fortitude, can make the best of a bad situation.
When it comes to building a fashion label, talent is manifestly not enough, although you can't do much without it. The main drama of the plot is getting the "Paradise Kiss" clothing label off the ground. Since the students are all in their late teens and early twenties, they have to be professional while still dealing with the emotional tumult of late adolescence.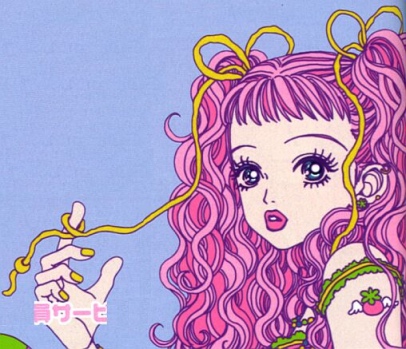 No review is complete without mentioning Ms. Yazawa's incredible drawing style. I mean incredible in both senses of the word: characters have extraordinarily slender bodies, long limbs, and perfectly coiffed hair. And since it's set in a fashion school, the characters are dressed in very elaborate, distinctive dress.
Miwako, for example (pictured above right) dresses in sweet and gothic lolita clothing, which matches her childish, impulsive personality. She has pink hair, making her even more frilly and feminine, while her boyfriend dresses up in a very 1990s punk vein.
I would recommend this manga to high school and college students, especially those interested in fashion but unsure of how "realistic" it is. I would also recommend it to young people who are smart enough to go the traditional route to university and then to a job, but are unsure of their prospects in this changing world. Reading Paradise Kiss might not give you answers, but it will show you possibilities.
Buy Paradise Kiss
at Amazon.com
.
Related Reading:
---
Return to Enjoy Your Style's book reviews page.
Return to Enjoy Your Style's home page.
Not what you're looking for? Find it, below: