Kornelia Interview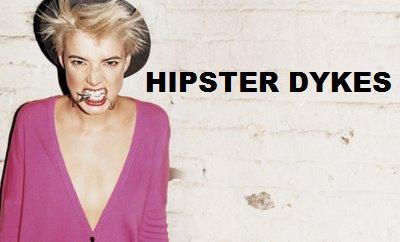 Kornelia is the webmistress of "Hipster Dykes," a now-defunct* blog dedicated to lesbian fashion and fashionable lesbians. A hipster dyke refers to any woman who is "VERY fashionable and keeps up on the latest trends while staying true to her queer roots." Think of Gia Carangi, or Samantha Ronson, for example.
If you ever thought that lesbians all dressed in flannel shirts and mom jeans, be prepared to be contradicted. Hipster Dykes featured photos from ads fashion shoots, street style blogs, candid pictures and party photos, full of stylishly androgynous girls and young women. Lesbian style icons like Agyness Deyn and Kate Moennig are also featured prominently on the blog.
ENJOY YOUR STYLE: How important is style?
KORNELIA: People use fashion in order to express themeselves. They want to show other people who they are, how they are, what kind of music they are into, in which subculture they are.
For example, some lesbians follow a lot of lesbian fashion stereotypes, because they want to be recognized by other lesbians. It's silent communication and it affects everyone.
I think this way of communication is very important and necessary. Cynthia Nellis once said: "Even if you say you don't care about fashion and don't dress to make a statement, you are making a statement (that you don't care about fashion)." Apart from that, finding your own unique style is like finally finding yourself and knowing who you are.
But people should not take it all too seriously. At the end of the day it's just fashion. There are more important things in life than that.
EYS: What are some common misconceptions about hipster dykes that you'd like to see cleared up?
K: The most common misconception about hipster dykes is the strong association with straight hipsters. It needs to be emphasized that we are talking about two different subcultures, even if there are many similarities between those two. Hipster dykes is just an equivalent for lesbian fashionistas. It's only about fashion and gay culture. "Hipsterism" is more about the attitude (non-conformity), music (indie aka " bands you've never heard of"), irony and the strong urge to being original.
EYS: Who are your top style icons?
K: I love it when people wear the colors black, white and grey. I also like minimalism and simplicity. I think Freja Beha, Kate Lanphear and Kate Moennig embody this look perfectly and they are the most inspiring people to me.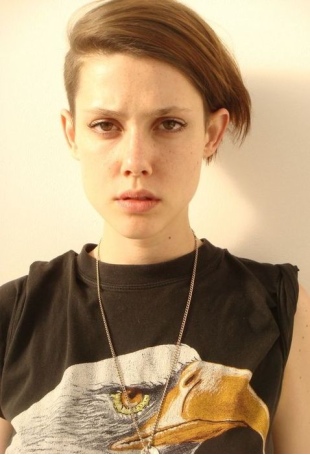 EYS: What are your favorite movies to watch for style/fashion inspiration?
K: I barely get inspired by movies. There's only one which had an effect on me.It's called This is England
and is about the skinhead subculture. Skinheads wear a lot of Ben Sherman shirts, Doc Martens and Fred Perry. Since I've watched this movie, I developed a thing for Fred Perry polos and the Chelsea and Feather haircuts on girls.
EYS: What are your favorite sources for style/fashion inspiration, in general?
K: I usually get my inspiration from fashion/street style blogs, tumblr, magazines, party picture blogs and random people on the street, but music inspires me as well. To be honest, I actually never bought a fashion book. I only read fashion mags and fashion blogs. My favorite fashion magazines are I-D and Nylon. My favorite fashion blogs are LesMads.de and Garbagedress.com. I would like to buy these books: The Sartorialist
, Facehunter
and The Nylon Book of Global Style
.
EYS: How does music give you fashion inspiration? Is it by looking at theoutfits of the performers, or does hearing the music somehow give you ideas?
K: Music and musicians have always inspired me the most, that's because I'm basically obsesesed with music. I listen very intensely to it. Back in the day I got inspired by only listening to the music. I dressed differently when I listened to rap, electro, punk or indie, but that doesn't have an effect on me anymore. I always get inspired by the outfits of the performers of my favorite bands. I started to listen to a lot of alternative rock by the age of 13/14, that was when I bought my first pair of Chuck Taylors and Vans slip-ons, studded belts and studded wristbands, ripped jeans, band shirts etc. Now, I wear a lot of black, I blame the XX haha. I'm not trying to copy anyone, it just happens automatically, when I'm a lot into the music of a band, I can't do anything about it.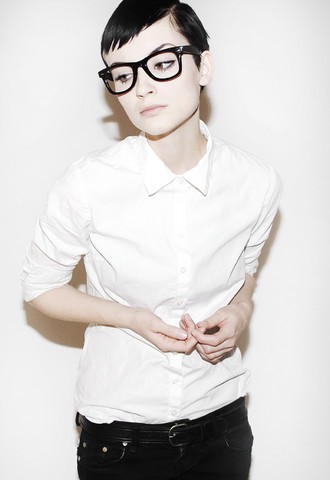 EYS: If you could change anything about yourself, what would you change?
K: I think the majority of girls would like to change something about themeselves and so do I, but these are just trivia. I learned to like myself just like the way I am....I think I'm going to change my hair color next week, if that counts.
EYS: What color are you changing your hair to?
K: My hair is black right now. I want to change it into brown with blonde highlights.
EYS: If you could raid anyone's closet, and have all their clothes magicallyfit you, whose closet would you raid and why? You can specify a year, too, e.g. "M.I.A.'s, in 2009"
K: I would choose Freja Beha's closet. She wears a lot of black and brands like  Alexander Wang and Acne. She also owns a pair of Vivienne Westwood pirate boots, which I dream of since forever. Kate Moennig's closet would be also a good choice. I really like the fact that she mixes girl's and boy's clothing.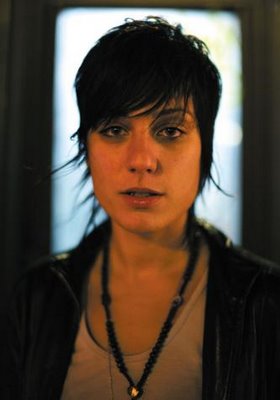 EYS: What are you passionate about?
K: I'm not into politics, but I've developed a few opinions on specific topics. Of course I am pro gay marriage and for the equal rights of woman. I'm also pro abortion, but I would not consider myself a feminist.
Besides fashion and music there is art that I'm really passionate about. I used to be into graffiti. To me it's another medium for self-expression, and not vandalism. Vandalism is throwing a stone into a window, graffiti is a long creative process. It starts as an idea in your head, then you transfer it as a sketch into your blackbook. You think which colors to choose and how to configure the letters properly so they harmonize with each other. It ends up as a beautiful painting, which is even bigger than yourself.You turn this idea in something palpable, I think that's fascinating.
*Hipsterdykes has been resurrected, by someone else, at hipsterdykes.tumblr.com/. As of this writing there's no content on that page.
Related Reading:
---
Return to Enjoy Your Style's gender studies page.
Return to Enjoy Your Style's interviews page.
Return to Enjoy Your Style's home page.
Not what you're looking for? Find it, below: