Punk Models
Punk models are born, not made. Even Mary-Kate Olsen can slap on some pink hair dye and a Velvet Underground t-shirt, but real punk attitude has less to do with what you wear than how you wear it. The ladies (and one guy) listed below exude attitude and a freakish glamor which can't be bought, sold or co-opted. Wannabes, take note!
Nico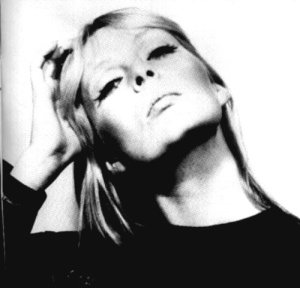 Nico is best remembered today for singing on the Velvet Underground's first album, The Velvet Underground and Nico. She was also a fashion model and, later, a solo artist, releasing six studio albums in her lifetime. Although she was not involved with the later punk scene, her influence on the punk aesthetic extended all through the 70s into the 2000s, when she was name-dropped in Hedwig and the Angry Inch
.
Candy Darling
A Warhol superstar and sweetheart of the underground, Candy Darling inspired the song "Candy Says," written by Lou Reed. Darling's sense of style was inspired, in part, by film idols like Kim Novak and Elizabeth Taylor. There's no denying she looks stunning, her makeup flawless, her hair curled and platinum.
Unlike most drag queens, Darling's outfits were not for play or dress-up. She was demure and ladylike, not flamboyant and loud. Today she would probably be considered a transsexual, as she wanted to be a woman, not play one. Darling dressed like Old Hollywood, and wanted to become an actress. The mores of the time didn't permit this. Even more unfortunately, the female hormone treatment she used gave her leukemia, ultimately killing her at age 30.
Candy's platinum blonde hair, blood-red lips and colorful, matte eyeshadow can be seen all across the history of punk, from Debbie Harry to Courtney Love. This look pre-dates her, and was likely inspired by 1950s film stars like Jayne Mansfield and Marilyn Monroe.
Anya Phillips
Dominatrix, impresario, stylist, scenester, muse, model...and mystery. Anya Phillips was one of the first punk models. She was involved in the NYC punk scene in her early twenties, while working as a dominatrix.
Ms. Phillips designed clothing for Blondie singer Debbie Harry. She was also president of the Richard Hell Fan Club. Phillips starred in Amos Poe's 1978 DIY punk film, "The Foriegner."
Anya dated James Chance, and thus became a central figure in the No Wave movement. She died of cancer in 1981, when she was still in her 20s.
Anya Phillips was never a public figure, and remains relatively unknown today; she is remembered fondly by those who knew her. She's mentioned in both Please Kill Me: The Uncensored Oral History of Punk
and No Wave: Post-Punk. Underground. New York. 1976-1980.
. There are pictures of her in both books.
Soo Catwoman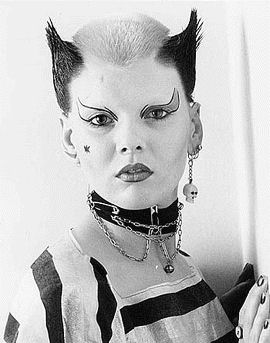 Soo Catwoman was a punk model and icon, though not so much by choice. Soo Catwoman (now Soo Lucas) was a member of the 1970s punk scene, before it was known as punk. She was photographed by Ray Stevenson in her iconic "catwoman" hairstyle. This photograph, taken when she was 21, has graced magazine covers, CD covers, posters and advertisements. Lucas's feelings about this are mixed; declining health led to her decision to lead a private life.
Jordan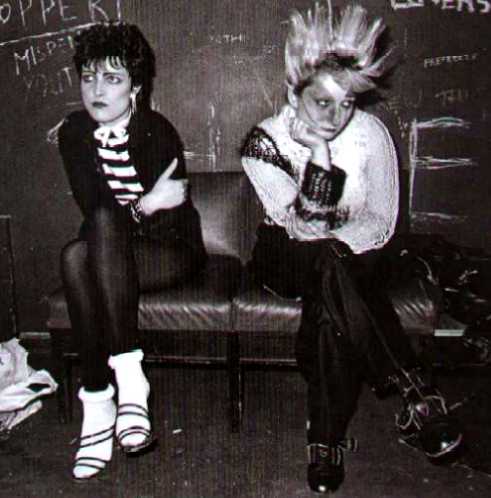 No, not that Jordan. Ex-girlfriend of Adam Ant, Jordan (born Pamela Rooke) was a fixture at many early Sex Pistols gigs. Her platinum blonde bouffant and racoon-like eye makeup drew her attention. She wore many of the most outrageous fashions created by Vivienne Westwood.
After 1977, Jordan grew disillusioned with punk, and faded out of the scene in the 1980s. She currently works as a veterinarian in England. She also breeds Burmese cats.
Siouxsie Sioux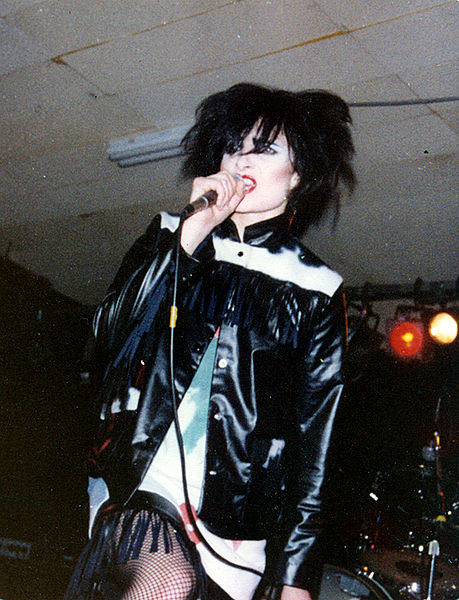 Ms. Sioux started out as a member of the Bromley Contingent, a group of hangers-on to the early London punk scene. She later fronted the band Siouxsie and the Banshees, which later went on to great success.
Siouxsie modeled many of Vivienne Westwood's early creations. As the 70s ended and the 80s began, Siouxsie moved away from the punk look towards the emerging "dark wave," or gothic, look. Her distinctive eye makeup, and big black hair, made her a popular covergirl for alternative magazines.
Debbie Harry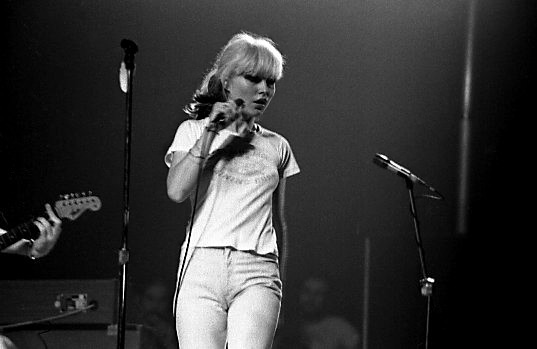 Harry was the lead singer of Blondie, a band which originated in New York punk and became mainstream new wave. Harry's smooth skin, bedroom eyes, and high cheekbones made her a pop star and a sex symbol.
Debbie Harry not only had sex appeal, but her blank, strangely vapid demeanor made her an ideal punk model. She was, literally, "pretty vacant." Warhol famously called her his favorite pop star; her appeal to him is fairly obvious, once you think about it. Although Harry never modeled professionally, her face graced many magazine covers, and she was often photographed when out and about.
Further Reading: Debbie Harry, Style Icon
Lung Leg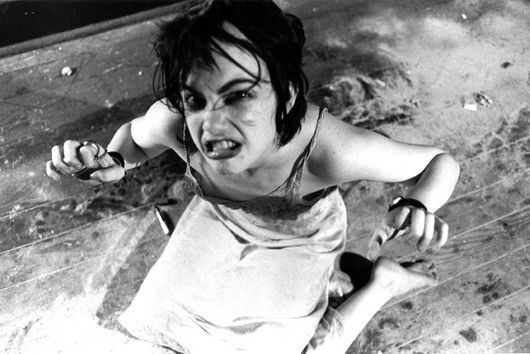 Lung Leg is best known for being on the cover of Sonic Youth's album, Evol
. The above picture, which was used on the album, was originally a photo from Richard Kern's movie Submit to Me.
Lung Leg appeared in several Richard Kern films, including Fingered and You Killed Me First
, which she starred in. Leg also appeared in a few music videos, including one for Sonic Youth's song "Death Valley '69," which was also directed by Richard Kern.
Warning: Vevo sucks.
Lung Leg disappeared in the late 1980s. Now, she apparently lives in San Francisco, or Minneapolis, and looks like a "witchy California drug culture icon," according to one interview with Kern. A 2005 self-portrait on Wikipedia supports this description.
Eugene Hütz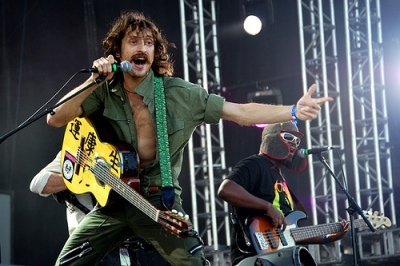 Eugene Hütz is the lead singer and songwriter for Gogol Bordello. When he moved to New York City in his mid-20s, he worked as a model to support himself. Unfortunately, I haven't been able to find any photographs of Hütz from this time.
Further Reading: Eugene Hutz, Style Icon
Emilie Autumn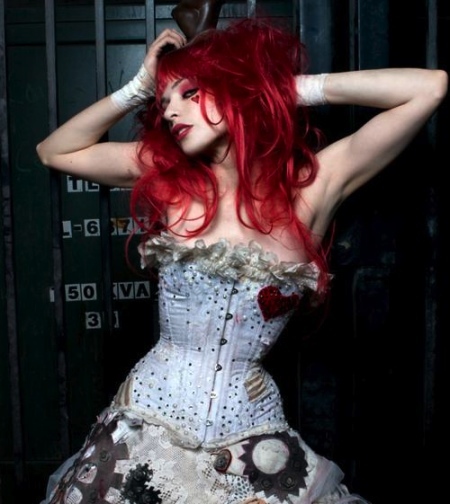 Autumn may be more of a goth than a punk model, depending on your point of view. She isn't a professional model, as far as I can tell, but her good looks and characteristic dress style (something between Alice in Wonderland and sadistic nurse) make her a favorite picture for myspace profiles, if nothing else. Autumn has released several solo albums and has published one book, The Asylum for Wayward Victorian Girls
.
Related Reading:
---
Nico photo by Gerard Malanga. From The Marble Index. Low resolution image, used for illustration purposes only, is considered fair use in the United States.
Anya Phillips photo from Find a Grave. Please let us know if it's yours.
Soo Catwoman photo by Ray Stevenson. Low resolution image, used for illustration purposes only, is considered fair use in the United States.
Debbie Harry photo by Jean-Luc. Used under CC Attribution-Share-Alike license.
Lung Leg photo by Richard Kern. Used with permission.
Eugene Hutz photo by Matt Kleinschmidt. Used under CC Attribution license.
Search Enjoy Your Style: