Megan Stewart Interview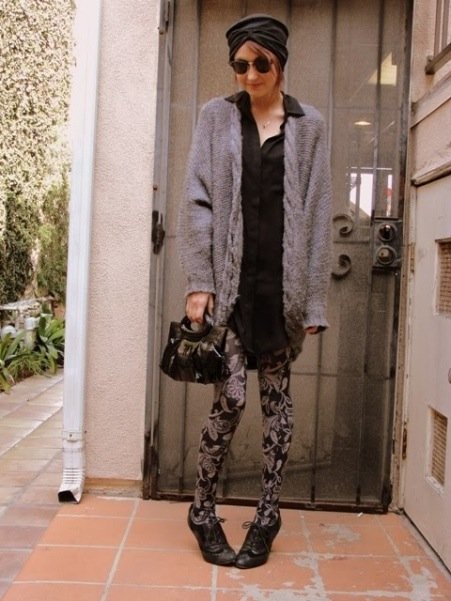 Megan Stewart's blog, Another Day to Dress Up, is full of interesting posts on fashion, as well as chronicles of different looks she tries on. Ms. Stewart has been featured on Lookbook.nu; her style was recently complemented by Goodwill (yes, that Goodwill) and mentioned on their official facebook page.
Her style incorporates many vintage elements, as well as neo-retro elements like Clubmaster glasses. Her blog, like this website, is still fairly new, but the looks she has posted show a flair for original and creative style.
Enjoy Your Style recently interviewed Megan Stewart about style, fashion, and life in general. The interview is posted below.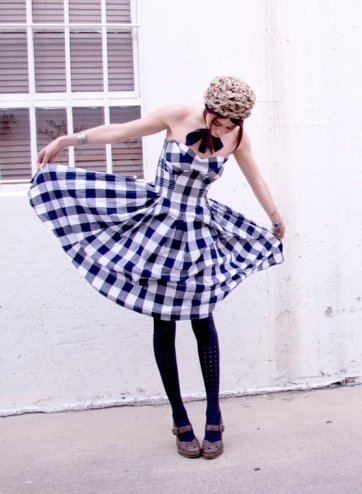 ENJOY YOUR STYLE: Tell us a little about yourself.
MEGAN STEWART: I began my secondary schooling at Chapman University, studying business marketing. I soon realized that I needed something more creative in my life; fashion was the natural choice. I then transferred to the fashion institute of design and merchandising and soon graduated with a degree in Product Development. This all led to creating my blog. I find blogging is a great creative outlet and allows me to connect with people from around the world that share the same passions as I do. Currently, I am managing two boutiques in Newport Beach, California, named Bohemia.
EYS: How did you first get interested in personal style?
MS: My personal style has been cultivated trough years of observation. I have long been a people watcher and find every individual's style explains an immense amount about that person's interests and personality. Style can explain so much without saying a word, which is endlessly fascinating to me.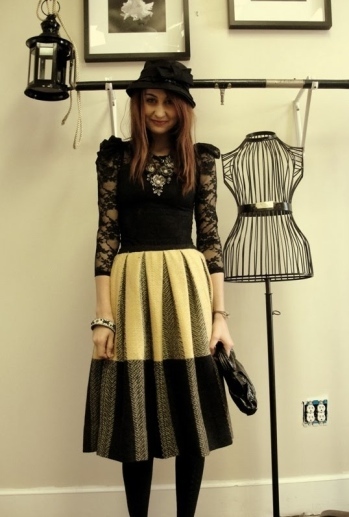 EYS: What are your favorite way(s) to find inspiration? (e.g. photo books, surfing the web, watching movies, and so on)
MS: I find most of my inspiration through old films. My top picks at this moment are Jean Seaberg in Breathless, Audrey Hepburn in Funny Face, and any film by Federico Fellini is infinitely inspiring. I also enjoy street fashion blogs, I love to see how people are dressed on a day to day basis, as opposed to fantasized on a photo shoot. Don't get me wrong, editorials are always inspiring, but I find people's personal style is much more interesting.
EYS: I notice a lot of your outfits incorporate patterned tights. I, too, love patterned tights. When did you first develop the taste or the inclination for them?
MS: I have been wearing colored tights for years, but patterned tights became an obsession about two years ago. Wearing tights is such an easy way to create interest and texture without having to go over the top. I also like the modesty tights give to an outfit, I feel much more ladylike with tights on.
EYS: Who are your top style icons?
MS: I think the real style icons are the designers themselves. Hannah MacGibbon for Chloe, Stella McCartney, and obviously Coco Chanel are my top icons. But it changes frequently from season to season.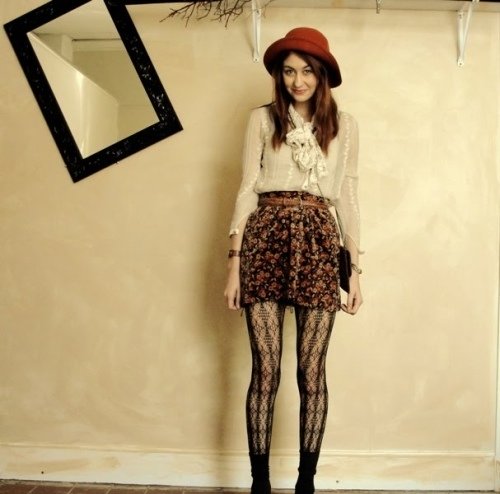 EYS: Hypothetical situation: You receive a mysterious instrument in the mail. Included with this instrument are instructions, saying that it will allow you to travel back in time and raid any one person's closet. The machine will also make all of the clothes you take fit you perfectly. Now, whose closet would you raid, and at what point in time? (Remember, you can only go back once.)
MS: Marianne Faithfull had an amazing collection of clothing in the 1970s. She combined classic pieces with current trends beautifully. And her hat collection was beautiful!!
EYS: What's your favorite book?
MS: Kafka on the Shore by Haruki Murakami is hands down my favorite book. It was so beautifully written and walked a fine line between a dream and reality perfectly. I love books that I get lost in, and this one is top on that list!
---
Related Reading:
Visit Megan Stewart's blog, Another Day to Dress Up.
Return to Enjoy Your Style's home page.
Not what you're looking for? Find it, below: