Audrey Hepburn quotes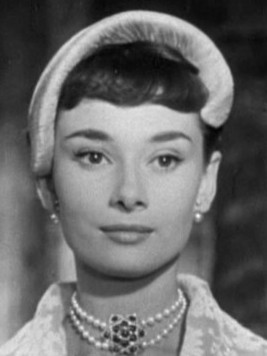 Audrey Hepburn quotes. Hepburn (1929-93) was a Belgian-born actress and humanitarian, most famous for playing Holly Golightly in Breakfast at Tiffany's. She also starred in films like Roman Holiday, Funny Face and War and Peace.
Hepburn was a long-time muse for Hubert de Givenchy, who designed her iconic little black dress for Breakfast at Tiffany's. In her later years, Hepburn worked as a UNICEF Goodwill Ambassador, helping impoverished children all over the world. She spoke English, French, Dutch and Spanish.
---
Beauty
The beauty of a woman is not in a facial mole, but true beauty in a woman is reflected in her soul. It is the caring that she lovingly gives, the passion that she shows.
I never thought I'd land in pictures with a face like mine.
I'm not beautiful. My mother once called me an ugly duckling. But, listed separately, I have a few good features.
There are certain shades of limelight that can wreck a girl's complexion.
Humanitarian Work
Since the world has existed, there has been injustice. But it is one world, the more so as it becomes smaller, more accessible. There is just no question that there is more obligation that those who have should give to those who have nothing.
Somebody said to me the other day, "You know, it's really senseless, what you're doing. There's always been suffering, there will always be suffering, and you're just prolonging the suffering of these children [by rescuing them]." My answer is, "Okay, then, let's start with your grandchild. Don't buy antibiotics if it gets pneumonia. Don't take it to the hospital of it has an accident. It's against life––against humanity––to think that way."
A quality education has the power to transform societies in a single generation, provide children with the protection they need from the hazards of poverty, labor exploitation and disease, and given them the knowledge, skills, and confidence to reach their full potential.
Life
Let's face it, a nice creamy chocolate cake does a lot for a lot of people; it does for me.
I believe in pink. I believe that laughing is the best calorie burner. I believe in kissing, kissing a lot. I believe in being strong when everything seems to be going wrong. I believe that happy girls are the prettiest girls. I believe that tomorrow is another day and I believe in miracles.
Pick the day. Enjoy it––to the hilt. The day as it comes. People as they come...The past, I think, has helped me appreciate the present––and I don't want to spoil any of it by fretting about the future.
People, even more than things, have to be restored, renewed, revived, reclaimed, and redeemed; never throw out anyone.
I've been lucky. Opportunities don't often come along. So, when they do, you have to grab them.
Living is like tearing through a museum. Not until later do you really start absorbing what you saw, thinking about it, looking it up in a book, and remembering - because you can't take it in all at once.
You can tell more about a person by what he says about others than you can by what others say about him.
The most important thing is to enjoy your life—to be happy—it's all that matters.
Stardom
Success is like reaching an important birthday and finding you're exactly the same.
I never think of myself as an icon. What is in other people's minds is not in my mind. I just do my thing.
People associate me with a time when movies were pleasant, when women wore pretty dresses in films and you heard beautiful music. I always love it when people write me and and say "I was having a rotten time, and I walked into a cinema and saw one of your movies, and it made such a difference."
Style
My look is attainable. Women can look like Audrey Hepburn by flipping out their hair, buying the large sunglasses, and the little sleeveless dresses.
There is more to sex appeal than just measurements. I don't need a bedroom to prove my womanliness. I can convey just as much sex appeal, picking apples off a tree or standing in the rain.
You can always tell what kind of a person a man really thinks you are by the earrings he gives you.
Why change? Everyone has his own style. When you have found it, you should stick to it.
Related Reading:
---
Audrey Hepburn quotes are part of Enjoy Your Style's Quotes section.
Return to Enjoy Your Style's home page.
Search Enjoy Your Style: