Gothic and Lolita Bible
At long last, the Gothic and Lolita Bible
, quarterly magazine for all things gothic lolita, has been published stateside in English. Whether this is good or bad depends on your perspective. Seeing the articles in English takes away some of the mystique, but you can understand the letters to the editor, the interviews, the tips and tricks suggested, and more. (Not to mention the sewing patterns!)
Each issue is about 125 pages, all of them in full color. Every issue comes with a sewing pattern, usually several on one large fold-out piece of paper. They range in difficulty from super-easy to moderately difficult. The magazine also has gothic lolita photoshoots. In the "wedding" issue, for example, two female models, one dressed in an androgynous tuxedo, got "married," cut the cake and had a celebration through the course of one photoshoot.
Street style reports also show up, if not in every issue, in almost all of them. The English-language editions usually feature more of "gothic lolita around the world" exposes, showing gothic lolita style in Stockholm, Texas, Montreal and so on.
The Japanese version also features more ads, at least in general. This can be a frustrating experience, since it's often ruinously expensive to ship anything from Japan to America, and the cutest-looking clothing outlets never seem to have an online store (or, if they do, it has the best bleeding-edge web design, circa 2002).
One interesting omission, at least from a Western perspective: there are almost no "off-theme" articles, like "how to quit smoking," "ten ways to please your man," "his secret sex signals," and so on. Fine by me.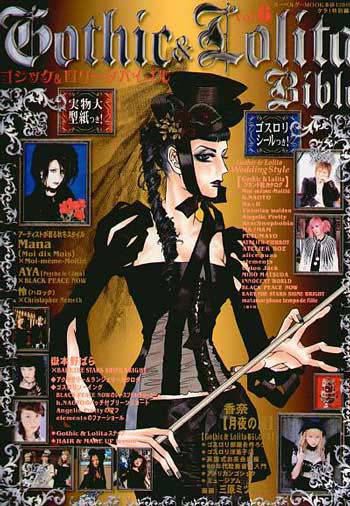 The Gothic and Lolita Bible shows just how diverse this style is. When you think of gothic lolita, you might think of a young Japanese lady, in a pouffy black dress, clunky Mary Janes and knee-high white tights, with a sanitary napkin on her head. Of course many gothic lolitas (and sweet lolitas, and wa lolitas, and so forth) dress like this, but the look doesn't stop there. Victorian gowns, women's tuxedos, hair kerchiefs, and more all make up the popular look.
The hairstyles are also interesting because they are so elaborate. While androgynous models seemed to wear the short, razored pixie cut you see on many J-Rockers, the more femme models all had piles and pigtails of curls, or hair backcombed to such a point it would make Robert Smith jealous. Unlike Western goths, who favor jet-black hair or unnatural colors, gothic lolitas seem to prefer more natural colors, such as black, blonde and red. There are a few pink- and blue-haired young models (this is Japan we're talking about) but not so many as you might expect.
I recommend the Gothic and Lolita Bible to anyone interested in this fashion style. If you know a budding seamstress, try to get her the English-language version, so she can read the patterns. If you know a Japanese learner, try to find the same issue in English and Japanese, since trying to decipher an entire issue will be difficult for beginner or intermediate language students. This will also highlight the differences between American and Japanese culture, when you see what alterations the magazine has gone under, and what seems to have been lost in translation.
The Gothic and Lolita Bible is published not-quite quarterly; its publishing schedule is "irregular," to quote JList. The magazine is licensed, in America, by TokyoPop; translation lag time is unknown, but I assume it's about three months.
Back issues of the Gothic and Lolita Bible
are available at Amazon.com
.
Related Reading:
---
Return to Enjoy Your Style's home page.
Didn't find what you're looking for? Try the search box below.