Christian Dior Quotes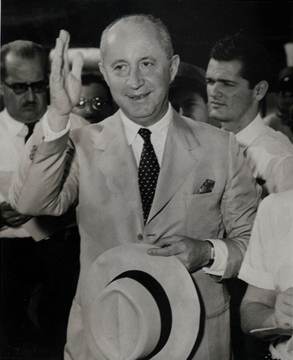 Christian Dior quotes. Dior (1905-1957) was an influential French fashion designer, most famous for inventing the New Look of the late 1940s.
Beauty
Zest is the secret of all beauty. There is no beauty that is attractive without zest.
Simplicity, good taste and grooming are the three fundamentals of good dressing and these do not cost money.
Grooming is the secret of real elegance. The best clothes, the most wonderful jewels, the most glamourous beauty don't count without good grooming.
Color
The colors of gray, pale turquoise and pink will prevail.
Elegance
I will only say now that elegance must be the right combination of distinction, naturalness, care and simplicity. Outside this, believe me, there is no elegance. Only pretension.
Elegance is not dependent on money. Of the four things I have mentioned above, the most important of all is care. Care in choosing your clothes. Care in wearing them. Care in keeping them.
But it is possible for a woman to be elegant without spending very much money on her clothes, if she follows the basic rules of Fashion and is careful to choose the clothes that suit her personality.
Fashion
Have you ever seen a woman enter a shop and ask for "something just like the one I'm wearing"?
––on what sustains fashion
The New Look brought me heavy mail. Letters arrived by the thousands––mostly enthusiastic but some indignant. A garage owner from Los Angeles wrote and told me that he had sworn to "tear me apart" on his next visit to Paris. According to him, it was my fault that his wife looked like a stuffed doll of the time of the Civil War.
I have designed flower women.
––on his own "New Look" style.
Life
It is unforgivable to do what one doesn't love, especially if one succeeds.
I think we have to be aware that people are allowed to make mistakes in their life.
I brought back the neglected art of pleasing.
To manufacture emotion a man must have a working agreement with madness.
Wealth
The rich live the same all over the world.
Women
When I opened my couture house I decided to dress only the most fashionable women from the first ranks of society.
Women are most fascinating between the ages of thirty-five and forty, after they have won a few races and know how to pace themselves. Since few women ever pass forty, maximum fascination can continue indefinitely.
My dream is to save women from nature.
My weakness...is architecture. I think of my work as ephemeral architecture, dedicated to the beauty of the female body.
A woman's perfume tells more about her than her handwriting.
Women will be good for you and bring about your success.
Related Reading:

---
Christian Dior quotes are part of our Quotations series.
Photo of Christian Dior used under GNU Free Documentation License.
Return to Enjoy Your Style's home page.
Not what you're looking for? Find it, below: