How to Apply Cat Eye Makeup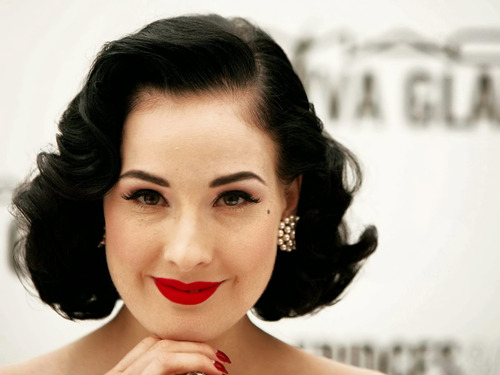 Photo from our Dita Von Teese gallery.
Learn to apply cat eye makeup without stressing, smudging or fussing. Don't worry––this is not rocket science or advanced gymnastics; pefecting the cat eye look is more like riding a bicycle.
Plus, once you get the hang of applying eyeliner, cat eye makeup will become almost second nature to you. You can get this very sexy and very subtle look without any fear.
Best of all, the cat eye look is adaptable to all sorts of situations, from the office to a rockabilly concert to a formal dinner to a party to a private party (as in a two person private party!).
You probably have most of the tools you need. And even if you don't, they're easy to find and fundamental for all sorts of different looks.
Tools and Products
To apply cat eye makeup, you will need:
Eye primer
Waterproof eyeliner, in pencil, cream or liquid form (whichever is easiest for you
Liquid eyeliner
Mascara
You may also use:
A neutral base eyeshadow
A shimmery, neutral-colored eyeshadow
A brow pencil or shaper
but these are not necessary.
Cat Eye Makeup Step by Step
Apply eye primer on your entire eyelid, from the lash line to the brow line.
Cover your eyelid in a neutral eyeshadow.
Trace around your entire lash line (upper and lower) with eyeliner. Use the eyeliner that's most comfortable for you, i.e. a pencil or a cream, whatever works best.
Draw liqiud eyeliner along your upper lashline only, extending the line beyond your eye, but not beyond your eyebrow. OR:
Draw liquid eyeliner along your upper lash, then, give it a slight upward flick at your eye's outer edge.
Tips
Practice makes perfect (or at least pretty good). Yes, I know I sound like a broken record, but it's true! If you're unsure how to apply liquid eyeliner, watch this excellent video tutorial by julieg713.
Ask for professional help. Find and ask a professional makeup artist for product recommendations. Since everyone has different tastes, different professionals will give different recommendations. Always get a second opinion!
For a really knockout look, first apply smokey eyes, then follow it up with the cat eye eyeliner trick. This is a knockout look, the little black dress of the makeup world!
Related Reading:
15 Ways to Clean Out Your Closet
---
Return to Enjoy Your Style's makeup section.
Return to Enjoy Your Style's tutorials section.
Return to Enjoy Your Style's home page.
Search Enjoy Your Style: