What's The Best Mascara?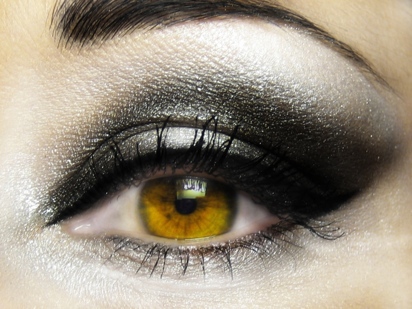 To paraphrase Coco Chanel, the best mascara in the world is the one that looks good, on you! Yes, I know that's not very helpful, especially when every mascara manufacturer claims their benefits in gushing, hyperbolic prose. (Seriously. When's the last time a company described their mascara as "pretty good"?) So you buy it, you put it on and your eyelashes look like spider legs. Great!––if you're Morticia Addams.
Well, don't worry. We're here for you, to help you cut through the adspeak and get to the heart of the matter: which mascara is the best? What's the best waterproof mascara? What about lengthening and thickening ones? Do they come in colors besides black? Do they cost an arm and a leg? All these questions and more are answered in this post.
Before you find the best mascara for you, you need to answer one simple question...
What Are You Looking For?
Not sure? Here are some common desires:
A mascara in a color besides black.
Thickening mascara, to make eyelashes thicker/more prominent.
Lengthening mascara, to make eyelashes look longer.
Waterproof mascara. Crying is embarrassing enough.
Non-waterproof mascara. Why make half of your eyelashes fall out just trying to remove the mascara?
A light mascara. Why feel that gunk on your lashes all day? It's uncomfortable!
Cheap but excellent mascara. Also: the fountain of youth.
How many of these apply to you? Try to find at least one category that appeals to you. Here's some further criteria, to help you along:
If you're a blonde or a redhead, black mascara probably is not the best choice for you. You might also prefer colored mascara if you frequently dye your hair. Unless you're going swimming, working out in makeup, in a sauna-like climate or prone to crying jags, waterproof might be more trouble than it's worth. If comfort is a big problem for you––the best mascaras are not gunky, clingy or gluey, so read on!
Before we go on, keep something in mind about price. The best mascaras that I could find are all in the $20-40 range. This is a lot of money for some people; I completely understand the frustration of wanting the best but being unable to afford it. However, that $8 tube of mascara might actually cost you more than a $25 mascara that makes you look and feel divine. Let me explain:
Let's say you by the $8 mascara, but it doesn't feel and look too great, and every time you wear it you have to apply it very, very carefully to make it look halfway decent. How inclined will you be to use it? Not very. What if your look absolutely cries out for mascara? Nope. You might even only use it once! So, essentially, you've just wasted $8 to be thrifty...that's not very thrifty. And on top of that, the mascara stays in your makeup drawer, drying out, but you can't bear to throw it out. Not very smart.
If, of course, you find an $8 (or $5, or $2) mascara that knocks your socks off, by all means use it. In fact, if you find one, please tell us about it! But until we test it ourselves, judgment is reserved.
Now!––Without further ado!––
The Best Mascaras (That We Could Find)
In writing this list, I've relied on expert opinions, websites like Temptalia, as well as makeup review sites like Makeupalley. These have been invaluable and I couldn't write the list without them. The mascaras with consistently positive reviews, that don't sound "manufactured" by some PR group (though how can you be sure?) are favored for each category.
In the interest of fairness, I've tried to include "minority reports" in the comments on these mascaras, i.e. less-than-favorable reviews. There is no mascara on the market with 100% positive reviews, and it's in your best interest to know common complaints.
For obvious reasons, it's not possible to write an objective list of "the best mascaras." It's not like writing a list of "the heaviest barbells," there is no objective measure of goodness. And even if there were, de gustabis non est disputandem: some people will like one kind, others another.
The Best in General
5. Bare Escentuals Buxom Lash - $18
Colors:
Black, Deep Blue
Pros:
Long-Lasting, Won't Flake, Natural-Looking
Cons:
The brush may be problematic for some, though it receives many favorable reviews
Buxom Lash mascara has a devoted fan base. "I have seriously tried all kinds," says dinopebbles on Makeupally, "...and none compares to the quality of the brush on this wand. It not only neatly separates my lashes, but it also volumizes them without clumps." Angellbing, from the same site, commented "I like the dip of the brush in the middle, as you can find ways to work with it to get slightly different looks...It doesn't feel stiff or flaky on my lashes, I've had no problems with smudging or removal."
Heather Karuza, of Coloruza, commented "It's a good mascara for everyday, but might not be quite thick enough for a night out when you want your lashes to almost look fake." DivineBlackness on youtube also offered a favorable, though not ecstatic, review, saying "I'm not too impressed by it."
4. Yves Saint Laurent's "Faux Cils" - $30

Colors:Black, Brown, Burgundy, Deep Blue, Grey, "Extreme Blue," Dark Violet, Green
Pros: Intense Pigment, Easy Application, Does Not Clump, Beautiful Packaging
Cons: Dries Quickly, Dark (con for some)
To A Touch of Blusher, Faux Cils "does add length, but it is mostly about volume." For Miss Natty, this mascara is great: "I think this is the 1st mascara I've owned that you don't have to wait to apply a second coat, you can keep applying, and your lashes will continue to look bigger and bigger WITHOUT clumping together!" Karen, from the Makeup and Beauty Blog, stated that "I've been testing it in High Density Black, one of the eight colors in the line, and it delivers some of the best pigment I've ever seen. It looks deep, dark and rich on my lashes, almost like they've been dipped in a jar of India ink."
One reviewer, nmone64 on Makeupalley, commented that "I've used 30+ different mascaras over the years and this has given me, by far, the best length & volume combo out of everything [that I've used]." Helg, from the same site, said that YSL Faux Cils is
The BEST mascara I have ever used and a sure repurchase when the tube comes to its end...It gives length and volume in one single coat!!...the brush is ergonomically designed to reach all lashes (but not so small as some others that become annoying and you can't sweep the lashes properly).
Other reviews were positive, but less enthusiastic. Lesley Chittayanon, of All Women Stalk, wrote that "I think the brush is well designed. It felt sleek and my lashes had a nice, thick glossy coat without any clumping. Overall, I would rate this product very highly...it created a dramatic effect but it wasn't quite magical!" Lojo669 Makeupally user, stated that "If you are someone looking for a dramatic lash, this is NOT the mascara for you...If you're looking for an excellent day time look, you will like this mascara."
Amber McNaught, of The Fashion Police, commented "I so, so wanted to love this mascara." She didn't, because "For me at least, the applicator brush was just way too chunky to be able to use effectively...it didn't clump at all (probably its biggest strength), but the brush was just too thick for me to get from roots to tip without smudging the mascara all over the eye area."
3. Givenchy "Phenomen'eyes" - $29

Colors:Black and brown
Pros: Precise Application, Long Lasting (for some), Minimal Smudging
Cons: Unusual Applicator, Slow Drying, Requires multiple coats for any volumizing effect
Givenchy's Phenomen'eyes gets strong first reactions––the brush looks like some species of sea urchin, or (to some) a Good Vibrations toy for the Lilliputian set. However, these hesitations are offset by a loud chorus of supporters. On Beauty Logic
, this mascara get an A-/B+; DE loved how little it clumped, the precise application.
Makeupally
's cavewoman (that's her username) showered Phenomen'eyes with lavish praise; the mascara worked wonders for her "thin, sparse, short and pale" lashes.
A Beautyful Sentiment gave a glowing review, though the reviewer wasn't so hot on the applicator, saying it wasn't "too terrible" and pointing out that the mascara requires a few coats to build up volume.
bgirl180, from Makeupally, was less than impressed. "I was excited to try this because I had heard such good things," she wrote. "Many of them were not true for me." Some of bgirl180's complaints were: the mascara did not let her curl her lashes; the mascara smudged; clumping was an issue; the spiky ball did not work for her. Others voiced similar complaints.
2. Chanel Inimitable - $30

Colors:Many Blacks, Brown-Black
Pros: Intense Pigment, Long Lasting, Quick Easy Application
Cons: Some tubes are reported to dry out quickly (i.e. within a few weeks of purchase).
Britt Aboutaleb, of Fashionista, described her experience with Chanel Inimitable thus:
After they sent me a tube of their Inimitable mascara I was hooked. I probably talked about it every day for a week. Then the tube ran out and I went to buy more. When I found out it was going to be $33 with tax I laughed and vowed never to spend that much on mascara. Then I went home and tried out all of these other ones I'm writing about, and went back to buy the Chanel. It's an obscene amount of money to spend on make-up, but it's the best mascara I've ever used.
$33 may be an "obscene amount of money." Chanel can charge that much, however, because
they know you'll pay
.
Inimitable doesn't work for all eyelash types and temperaments. Its applicator and formula receive generally favorable reviews though. "There's no gloopy messiness here," "no globs, clumps, or smears," "My eyes looked massive" are all comments the mascara received on Makeupally.
Not everyone is a fan though. One commenter on TotalBeauty said this:
I had high hopes for this mascara. The brush did define and separate my lashes very well, but it didn't lengthen or thicken or hold my curl. I also like mascaras to leave my lashes really black, but this one didn't do that.
Some have said that this mascara clumps and smears, especially for people with oily skin.
1. Lancome Definicils - $24.50

Colors: Black, Brown, Navy Blue
Pros: Lengthening, Thickening, Doesn't Clump, Light
Cons: Smears, esp. for people with oily skin
"I am 61 years old," writes Peace2, "and have worn [Lancome Definicils] for more years than I care to admit. I would not think of putting anything else on my eyelashes. It makes my eyelashes long and very prominent; and even when I wear my contacts, I feel like a star." Peace2 isn't the only one singing this mascara's praises. Ms. Britt Aboutaleb names it as her favorite mascara, with Inimitable (see above) as a close second.
However, this is not unanimously the best mascara. Alexei9 complains that Definicils "clumps like all get-out." Some fans concede that the product is a bit heavy, while others say it's too light.
Related Reading:
---
References:
"The Best Mascara." All Women Stalk. Accessed 6 June 2010 at http://allwomenstalk.com/best-mascara/
Return to Enjoy Your Style's makeup page.
Return to Enjoy Your Style's home page.
Search Enjoy Your Style: