Debbie Harry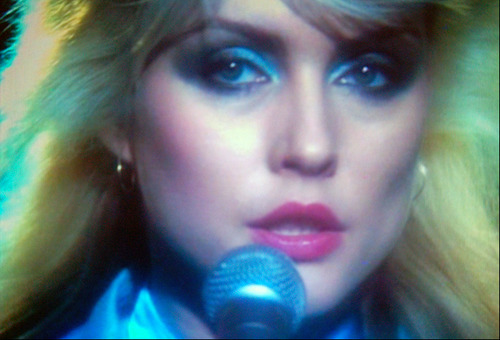 Debbie Harry's cool, understated sexuality made her a darling of the New York punk scene. Her later fame made her an instantly recognizable face, and an influential force in American popular music and fashion.
Harry is best known as the lead singer of Blondie
, a punk band which successfully transitioned into the more commercial "New Wave" sound. The band incorporated other styles of music, such as reggae, disco and rap, into theirs. Although she was over thirty when the band had its success (a dinosaur, in punk terms) Harry's winsome features and platinum blonde hair made her an instant success in pop culture.
Debbie Harry was, apparently, Andy Warhol's favorite pop star. It's easy to see why. On stage, there was a certain blankness at the center of her performances; even if she makes eye contact with the camera, you don't feel like she's looking at you...more like through you. This, and her attractive features, are what makes her so mesmerizing.
Debbie Harry and Punk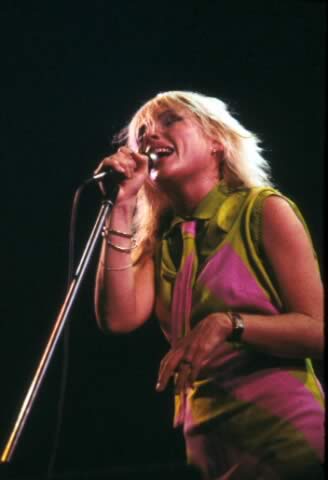 In the late 1960s, when she was in her early twenties, Deborah Ann Harry moved to New York City, taking jobs as a secretary, waitress, even a worker in a Dunkin' Donuts.
In 1973, Debbie Harry met Chris Stein, who was a backup musician for her girl group, The Stilettos. Together, they formed The Angel and the Snake, a band which became Blondie in 1975. The name, Blondie, came from the catcall various men would yell out to her on the street.
Stein and Harry became involved in the then-burgeoning music scene, which centered around CBGBs and Max's Kansas City. Bands like the Ramones, the New York Dolls, Richard Hell and the Voidoids were emerging from New York. There was not yet the punk "uniform" we have today, which was mostly imported from Britain by bands like the Clash and the Sex Pistols, as well as Vivienne Westwood.
However, a distinct look, and attitude, was just starting to emerge. In contrast (and defiance) to the hippies, these early punks wore dark, tightly-fitting clothes. Instead of being open and friendly, punks had a more wary, cool sensibility. Most of them were young, in their teens, early or mid-twenties, and a little disturbed.
Enter Debbie Harry, nascent pop star. Her look was partly copied from Marilyn Monroe, but her attitude was more cool, more downtown. Unlike Monroe, Harry was very slender, almost boyish, with small breasts, narrow shoulders and hips. Harry also dyed the hair on the back of her head a darker blonde color, leading to an interesting two tone effect.
Debbie Harry and Fashion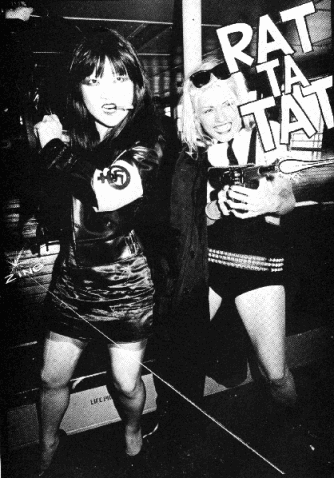 In early videos and photographs of Blondie, you can see the origins of 1980s fashion, from headbands, colored tights and the 1950s retro revival. In the video for "X Offender," Harry wears a black turtleneck, light pink pants, and a shiny blazer that's clearly a 1950s throwback. (The opening to the song is clearly a throwback to 1950s pop, as well.) To our modern eyes, her jeans look incredibly high, due partly to gangster rap and old people stereotypes. In reality, the top button of her jeans is probably a little below her belly button, making them standard for that era.
Ms. Harry's most famous outfit was probably the dress worn in her "Heart of Glass" video. The dress, designed by Stephen Sprouse, was a photo-print of television scan lines, with a layer of cotton underneath and a layer of chiffon on top. The dress had one strap, going from the middle of the dress around the left side of Harry's neck. She wore black tights, and some sort of black high heels, which you can see, albeit briefly and not very well, on the youtube video.
Debbie Harry's eye makeup was often dramatic; an early video shows her with heavy black makeup arond her eyes, with dark penciled eyebrows. This makes a lot of sense; Harry's eyes, simultaneously penetrating and blank, are the origin of a lot of her star appeal.
Unlike Monroe, Harry usually didn't wear bright red lipstick, even in glamour shots; combined with dramatic eye makeup, this would have made her look clownish. Some exceptions exist: in the "Heart of Glass" video, Harry's lips are red and glossy, combined with understated smokey eyes.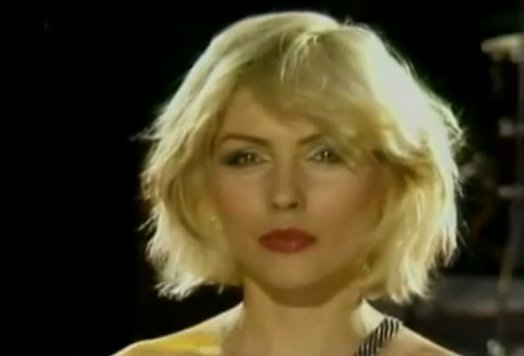 Even when Debbie showed skin, the camera usually focuses tightly on her face. Nowhere is this more apparent than the video for "Picture This," where Harry wears a formless, canary-yellow dress, with backlight against her soft platinum hair, or the video for "Dreaming," where the camera focuses on her face, even though she's wearing a skimpy tube top/shorts combination.
I think Debbie Harry's popularity, and iconic status, are partly due to her inscrutability. Had you never seen a photo or video of her, you might conclude that she's just another "blonde American bimbo," albeit from New York and not Los Angeles. But she's not. She was an early member of the punk scene, a singer, and an occasional actress. We know the essential facts of her life, but we don't "know" her the same way we know, say, Courtney Love.
I started out this essay mentioning the "blankness" at the core of Ms. Harry's performances. I don't know how else to describe it. She seems to be there and not there at the same time, kind of like a fashion model. Unlike a fashion model, who looks bored and constipated, and whose face you'd forget two seconds later, Harry is captivating. I saw her on Sesame Street, once, when I was about three or four, and I never forgot her. This animal magnetism, or whatever it is, is more than just sex appeal or attractiveness. I can't really describe it in words, nor would I want to.
Related Reading:
The Best Punk Models You've Never Heard Of (Unless You're Really, Really Cool)
Riot Grrrl Style, Fashion and Self-Expression
Lady Gaga - A Dissenting Opinion
---
This article on Debbie Harry is part of our Style Icons page.
Return to Enjoy Your Style's home page.
Search Enjoy Your Style: