Edie Sedgwick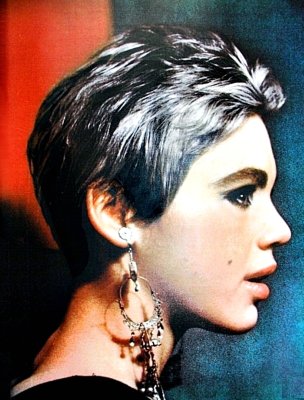 One of America's most famous socialites, Edie Sedgwick's sartorial style and tormented, innocent beauty, made her an icon. She is best known for starring in several Warhol films
, as well as Ciao! Manhattan
, a semi-autobiographical movie made in her later life.
You probably know Edie through photographs of her, taken in her early and mid-twenties. Sedgwick was a strikingly beautiful young woman, with a unique and compelling on-camera presence. Edie Sedgwick was old money, and she moved like old money, albeit through a world of artists, junkies, poets, partygoers and bohemian riff-raff. A declassed thoroughbred in the underground, who retains that breeding even as she spirals to an early death. That sounds almost like a fairy tale, doesn't it?
Of course, it wasn't a fairy tale, and her life was all too real. However, Sedgwick's style is what made her an icon, and it's what separates her––even today––from the thousands of deservedly obscure socialites and heiresses who live as she did.
Style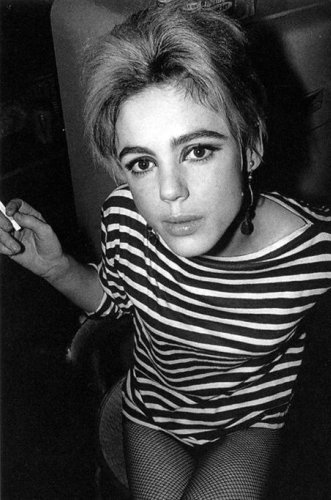 She was the girl on fire with the silver hair close to her head, the eyes, the Viceroy in her fingers, the sleeves rolled up, those legs, yoicks!...All you saw was her.
––Rene Ricard, in Edie: American Girl
Edie Sedgwick died when she was twenty-eight. In her short life, her style was unusual but it did not appreciably change.
At age twenty or twenty-one, Sedgwick began cutting her hair short and dying it blonde. She also dyed her hair silver. Edie also wore heavy makeup, especially dramatic eye makeup, with false eyelashes and highly defined designs on the upper lids. She also started to paint her brows black and run over the natural lines of her eyebrows. Her lipstick was often light pink.

Sedgwick's outfits were quite different for that time, even in Manhattan. Photos of her show her wearing the following clothing items: black tights, leotards, horizontally-striped boatneck shirts, black minidresses, dangly earrings and long necklaces. Some photos also show Edie wearing a 1960s style "newsboy" cap with large, hemispherical goggles perched just above the brim. Few, if any, photos show her wearing pants.
According to Girl on Fire, Edie was a compulsive shopper, and squandered much of her inheritance on high-end clothing and makeup.
Edie Sedgwick's style perfectly expressed her personality: old money declassed and gone bohemian. This got her a lot of attention. Vogue dubbed Sedgwick a "youthquaker" and profiled her in their magazine. She modeled for Vogue, but was never part of the "Vogue family" due to her drug use and erratic behavior.
In The Philosophy of Andy Warhol: From A to B and Back Again
, Warhol describes a young woman, "Taxi," who bears a strong resemblance to Sedgwick. Taxi may be a composite, but certain details strongly suggest that he's writing, at least partly, about Sedgwick. From the book:
Taxi invented the mini-skirt. She was trying to prove to her family back in Charleston that she could live on nothing, so she would go to the Lower East Side and buy the cheapest clothes, which happen to be little girls' skirts, and her waist was so tiny she could get away with it. Fifty cents a skirt. She was the first person to wear ballet tights as a complete outfit, with big earrings to dress it up. She was an innovator––out of necessity as well as fun––and the big fashion magazines picked up on her look right away...

Taxi had an incredible amount of makeup in her bag and in her footlocker: fifty pairs of lashes arranged according to size, fifty mascara wands, twenty mascara cakes, every shade of Revlon shadow ever made—iridescent and regular, matte and shiny—twenty Max Factor blush-ons...She'd spend hours with her makeup bags Scotch-taping little labels on everything, dusting and shining the bottles and compacts. Everything had to look perfect.
Warhol goes on to say that Taxi had an affair with "The Definitive Pop Star...the thinking man's Elvis Presley" and died in Hawaii "where an important industrialist had taken her for a 'rest.'" These details do not square with Sedgwick's life. Sedgwick died in California, not Hawaii, and her highest-profile relationship was with Bobby Neuwirth, a friend of Bob Dylan's but hardly a pop star, definitive or otherwise.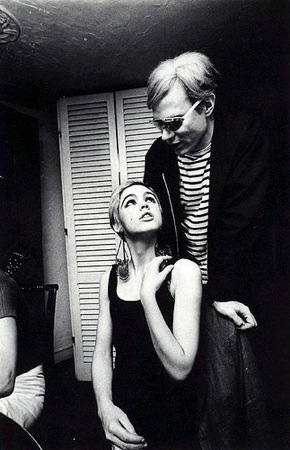 Apparently, Edie's style was based on her psychological problems, especially the very fresh trauma of her upbringing and her brother's deaths. She described her own style thus:
While I was girl of the year and superstar and all that crap, everything I did was really...motivated by psychological disturbance. But I'd, I'd make a mask out of my face because I didn't realize I was quite beautiful...I had to wear heavy black eyelashes like bat wings and dark lines under my eyes. Cut all my hair off, my long dark hair, cut it off and strip it silver and blond. All these little manoeuvres I did out of things that were happening in my life that upset me. I'd freak out in a very physical way, and...it was all taken in a fashion trend.

When I was with Andy Warhol I was dancing jazz ballet twice a day so i just wore my leotards and I knew I wasn't going to turn anybody on so I just trotted around in my leotards. When I went out on the street I'd put on a coat. But Vogue photographed me in leotards and a t-shirt as a new costume.
This is a dark irony, considering that the "youthquaker" label was meant to convey a fun, flirty, free-spirited aesthetic, but it was a style born in darkness and misery.
Legacy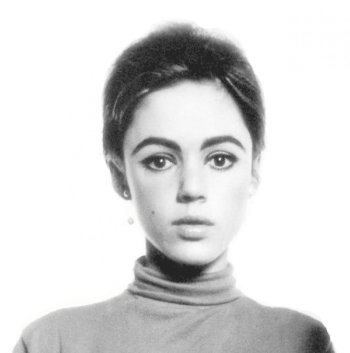 Edie Sedgwick may have been a Warhol superstar, but she was marginally famous in her own time. It is only in the last few years that she has become popular, especially among teenagers and twentysomethings.
It's no wonder; Sedgwick's style resembles that of many urban hipsters, who come from money and run from money, who may or may not have trust funds, may or may not have artistic talent and won't tell you either way. Many affluent young people suffer from grave psychological problems, similar to Edie's. She can therefore serve as a sort of blueprint for how to be classy without being arrogant.
Many things separate Ms. Sedgwick from the Hiltons, Kardashians and other rich fame-mongerers of the world. The two most important are: her camera presence and her personal style. Like Nancy Spungen, Edie Sedgwick had great potential that was never realized. We only glimpsed it, briefly, blindingly, in a few photographs and a few films. There is no moral to this tragedy, just a sad story and a pretty girl.
Related Reading:
Girl On Fire, an Edie Sedgwick biography
---
References:
"Edie Sedgwick Biography. Warholstars.org. Accessed 24 June 2010 at http://www.warholstars.org/stars/edie.html
Stein, Jean. Edie: American Girl
. Grove Press, New York, 1994.
Warhol, Andy. The Philosophy of Andy Warhol: From A to B and Back Again
.
Weisman, David and Painter, Melissa. Edie: Girl on Fire
. Chronicle Books, New York, 2007.
Return to Enjoy Your Style's style icons page.
Return to Enjoy Your Style's home page.
Not what you're looking for? Find it, below: