Edie: Girl on Fire
by David Weisman and Melissa Painter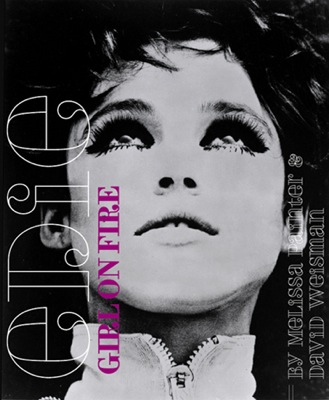 Edie: Girl on Fire
is a photo-heavy biography of socialite, youthquaker and Warhol superstar Edie Sedgwick. Beautiful, troubled and innocent, Sedgwick was simultaneously a blank slate and a shining personality.
The book is mostly photographs, with quotes from Edie's friends, associates and even Ms. Sedgwick herself. We see Edie Sedgwick at parties, in private, as a young girl and teenager and finally a young woman. Sedgwick died age 28; photographs taken just before her death show how drug use, anorexia and other ills had just started to take their toll. Since we primarily remember Edie for her beauty, it might be a mercy that she died young.
Who was the "real Edie"? Don't read this book if you want to know, because it doesn't tell you. Or even attempt to. Like many beautiful people, Edie is a blank slate for the contributors to project themselves into. There are a few revealing quotes, but not enough to justify the purchase price.
Reading Girl on Fire reminds me of the lament of one newspaper's obituary writer. It seems that everyone who died was, according to their family, the most wonderful parent, a loving spouse, a devoted sibling, and so on. After a few weeks on the job, the writer found himself listening to this spiel while thinking "Okay, but...what did they actually do?" This book is full of reverential quotes, implying that Ms. Sedgwick was the purest soul to ever walk the world. Okay, but...what did she actually do?
Edie was a "beautiful corpse," in the cruel words of one reviewer. Never mind. Sedgwick's legacy is in her photographs, in the films she made with Warhol and her sense of style.
Of course, Ms. Sedgwick does do something. She's not just attractive; there's a vibrant charm evident in the many, many photographs of her that fill this book. It's also evident in interviews. Had Sedgwick lived, it's possible she may have become an interesting, compelling personality. Or, she may have lost her looks (she was already losing them when she died) and become an embittered shell. We'll never know.
Every biography attempts the impossible: it attempts to know another person. Unfortunately, this book is mostly photographs, and "the more [a photograph] tells you, the less you know." If you love Edie Sedgwick and you want more photographs of her, this book is worth the price just as a photobook. The text is not.
Buy Edie: Girl on Fire
on Amazon.com
.
Related Reading:
---
Return to Enjoy Your Style's book reviews.
Return to Enjoy Your Style's style icons section.
Return to Enjoy Your Style's home page.
Not what you're looking for? Find it, below: