Eugene Hütz, Style Icon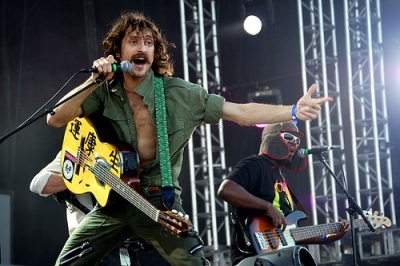 photo by Matt Kleinschmidt.
Eugene Hütz is the lead singer of Gogol Bordello, a gypsy punk band based in New York City and Brazil. Hütz has also acted, most notably in Everything is Illuminated and Filth and Wisdom.
Most of Eugene's appeal comes from his tremendous energy and passion. His natural good looks don't hurt him either. Unfortunately for him, most journalists focus more on Hütz's sartorial sense than his music. Even more unfortunately, that's what I'm going to do right now.
Early Life
Hütz grew up in Kiev, Ukraine. His father, an electrical engineer and musician, was able to unscramble the radio and listen to forbidden radio stations, such as the Russian-language BBC and radio programs of western music. His mother was an accomplished seamstress; Hütz learned sewing and tailoring from her. He began playing music at age two or three, inspired in part by his father's example, in part by a strong inner drive.
Eugene discovered punk rock in his early teens. At one point he dyed his hair green with a medical paste. The restrictions of Soviet-era clothing production made him, and his friends, express themselves through details. These attracted the attentions of Neo-Nazis and the police.
In 1986, when Hütz was thirteen, a nuclear power plant in Chernobyl, Ukraine melted down. The Soviet government did not inform its citizens that the accident had happened. Fortunately, Eugene's dad listened to an unscrambled BBC broadcast, which alerted Soviets to the situation and its dangers.
The Hütz family escaped from Kiev to Carpathia, a region on the border between Ukraine, Hungary and Romania. It was there that Hütz learned of his Romani (gypsy) ancestry.
Vermont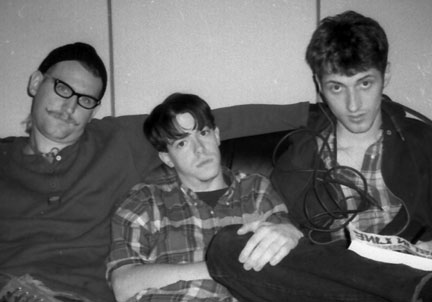 Photo from Bradley's Almanac.
Eugene's family arrived in Burlington, Vermont after an odyssey through refugee camps in Europe. He was nineteen. Soon thereafter, Hütz (then Eugene Nikolaev) started a band called "The Fags" with two other Burlingtonians.
Photographs from that time show him clean shaven, with short hair, in flannel shirts, t-shirts and jeans. He started to grow his mustache when he was about 22, simply because it was traditional in his family and "a man without a mustache is like a woman with one."
Gogol Bordello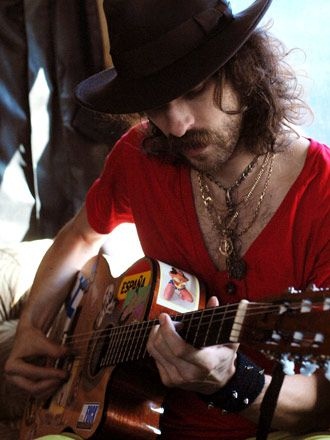 In his mid-twenties, Eugene left Burlington for New York City. He worked as a model to support himself and his musical ambitions. He also became a popular DJ at Mehanata, a Bulgarian bar.
The first members of Gogol Bordello met at a Russian wedding in Vermont, 1998. A year later the band's debut album was released. By this time, the flannel shirts were long gone and replaced by striped pants, altered (often sleeveless) shirts, and various necklaces, armbands, scarves and other accessories that advertised Hütz's politics and Roma roots.
Hütz's experience with a sewing machine served him well. He began to alter his clothing in ways large and subtle. One photo shows him wearing an "NYPD" shirt which has been altered to read "NYgypsyPunks," with the Gogol Bordello slingshot as the "Y."
Gogol Bordello's star climbed throughout the 2000s. In 2007 GB performed with Madonna at "Live Earth," a widely televised London concert. According to Hütz, having Madonna sing Romanese on television, at a globally televised concert, was a good moment for the Roma community.
GB tours on average of once a year, usually a long and worldwide tour with stops in Europe, Japan, North and South America. If you live in any of those places, you can check out Hütz's outfit up close and personal. :D
Film Career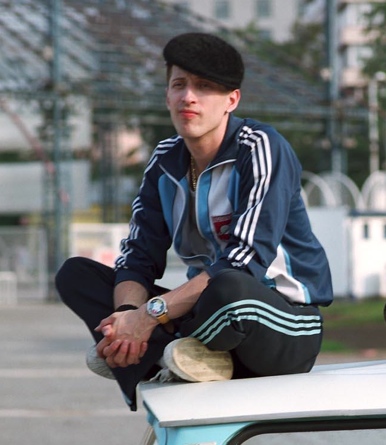 Eugene Hütz has starred in two films, Everything is Illuminated and Filth and Wisdom. In the former film, he shaved off his mustache and sideburns, cut his hair, and donned a blue tracksuit and a Kangol hat. For Filth and Wisdom, Hütz dressed up in various costumes, including a nazi dominator (male dominatrix), but he's basically playing himself.
Hütz also served as the inspiration for one character in the film Wristcutters: A Love Story.
Related Reading:
---
This profile of is part of Enjoy Your Style's icons section.
Return to Enjoy Your Style's home page.
Not what you're looking for? Find it, below: