Natalie Suarez Interview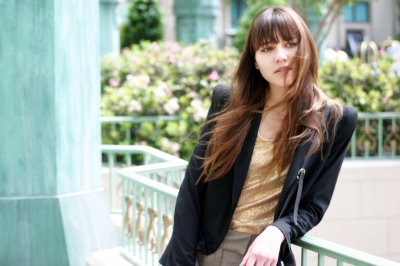 Natalie Suarez is a model, singer, songwriter and blogger. Her blog, "Natalie Off Duty," features many interesting posts on fashion, style, music and travel, as well as photos of Natalie "off duty," i.e. in her every day outfits.
Enjoy Your Style recently interviewed Ms. Suarez about her life, who influences her, and more. The interview is below.
ENJOY YOUR STYLE: How has being a model influenced your sense of style?
NATALIE SUAREZ: As a model, I constantly have to go to castings and meet new people. It's so important to stand out at a casting so I like to show off my personal style. I know what looks good on my body type and I stick with it.
EYS: In looking through "Natalie Off Duty," I noticed you sometimes wear androgynous clothes, e.g. business jackets, slacks, loose v-neck shirts, etc. Was this a conscious choice for you?
NS: I have always loved the boy clothes on women. I find it so sexy! So yes, most of my closet leans toward blazers and trousers. I think it really suits me, plus they are really comfortable!
EYS: On a related note, how much of what you wear off duty is consciously chosen? How much just "happens" without you being so aware of it?
NS: I try not to put too much thought into what I wear. I just lean towards what I will feel comfortable wearing for that entire day. Whenever I think too much about my appearance, I end up wearing something I regret. It's best to keep things simple.
EYS: What are your favorite movies to watch for style/fashion inspiration?
NS: I love watching period films. I am in love with vintage clothes so old films are really inspiring for me. I like seeing the shapes and colors women wore in the past.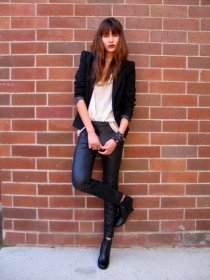 EYS: You're given unlimited funds and unlimited resources (including human capital, such as advisers and researchers) to tackle any one social/global/humanitarian problem. Which problem do you address, and why?
NS: With unlimited funds and resources, I'd definitely use that to help underprivileged children. I feel everyone needs a chance to succeed in the future. To help other people is really important to me.
EYS: Why is style important?

NS: To me, style helps you express yourself without words. It definitely is not the most important thing about a person, but it does give a hint to who they are. Everyone presents themselves differently, their style is only part of it.
EYS: What about fashion?

NS: Fashion is something we all look up to. It's sometimes good to look up to fashion, admire something you see, and then figure out things about yourself. I feel fashion does benefit us in a way.
EYS: Finally, a question from the movie "Heathers." You win five million dollars from Publisher's Sweepstakes, but on the same day what's-his-face gives you the check, aliens land on earth and say they're going to blow up the world in two days. What would you do?

NS: I'd get as much help as I could from friends. We'd come up with a plan, make a deal with the aliens. We'd use all the money if we had to, in hopes of saving the world!
Visit Natalie Suarez's blog, Natalie Off Duty.
Related Reading:
---
Return to Enjoy Your Style's interviews page.
Return to Enjoy Your Style's home page.
Not what you're looking for? Find it, below: