No Wave: Post Punk. Underground. New York. 1976-80.
by Thurston Moore and Brian Coley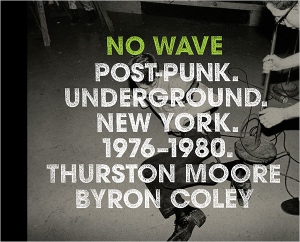 Moore and Coley's No Wave: Post-Punk. Underground. New York. 1976-1980.
is a history, half-oral, half-photographic, of this short-lived, eponymous movement. New York was always more art than rock; this small but influential movement just took punk to one of its logical extremes.
This book is about 50% black and white photographs, of people posing for the camera or playing music onstage. The book is formatted to accommodate the large horizontal photos; it's wider than it is long. The rest is oral history, based on interviews of band members like Lydia Lunch, James Chance and Arto Lindsay.
One gets a real sense of 1970s New York from the interview subjects––the seediness, the strangeness, the weird vibrant energy of the place. I can't help thinking that, with 30 years distance, 1970s New York has become somewhat romanticized.
The text is lime green, in three small columns with wide margins, and interspersed between multiple pages of photographs. This is not the best textual arrangement I have seen in my life; the book would have benefited from having, say, chapters (with no pictures or small ones) followed/preceded by multi-page photo spreads.
The interviews only cover the New York scene from 1976-1980, as it says on the cover. Later no wave art, such as the transgressive cinema movement, is mentioned but not covered in depth.
The oral history is interesting, but a bit depressing for the modern reader. Surviving on one's wits and friends is no longer so possible as it was then, even with the recession. One wonders where today's Lydia Lunches are, and how they're surviving: retail sales? Prostitution? Racking up untenable debt at a mediocre art college? The mind reels.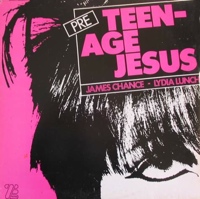 This scene was small and close knit. Better still, all of its members were intelligent and articulate. Even thirty years after the fact, they can comment on their youthful experiences with insight and humor. Although No Wave's influence extends from the Yeah Yeah Yeahs to the Big Lebowski, the movement is neither over-exposed, nor much known about. The most famous member of this scene is Lydia Lunch, who once said "I would be humiliated if I found out that anything I did actually became a commercial success."
Reviewers of this book call it "the definitive chronicle of no wave." Though this is a good book, it is definitive by default; there is one other book
, to my knowledge, which focuses on this subject. If you can get past the strange organization, and want to learn more about late-1970s New York, this is a good book for you.
Buy No Wave: Post-Punk. Underground. New York. 1976-1980.
on Amazon.com
.
Related Reading:
Lydia Lunch's Autobiographies
---
Return to Enjoy Your Style's book reviews section.
Return to Enjoy Your Style's home page.
Not what you're looking for? Find it, below: