Smashbox Cosmetics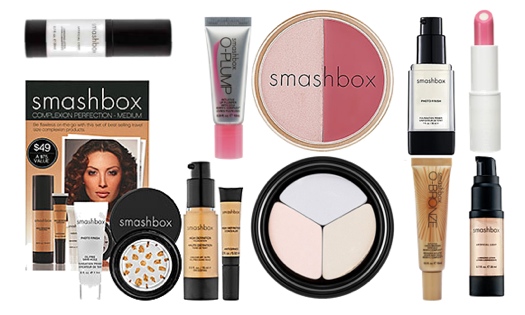 Smashbox Cosmetics owes its origins to Smashbox Studios, a film and photo studio in Los Angeles. This studio, and makeup line, were founded by two great-grandsons of the Max Factor, cosmetics pioneer and inventor of lip gloss, among other things.
Smashbox Cosmetics were originally made for photo shoots and films; they are therefore consistently high quality. High quality means high price, but their cosmetics aren't prohibitively expensive; most Smashbox products run in the $20-50 range.
Smashbox does not test on animals; they have joined PETA's cruelty-free program. Dean Factor, one of the founders, said this about animal testing:
When I first learned that animal testing was a common practice in the cosmetics industry, I was disgusted. I simply could not believe it. From that day forward, I told my staff that all our products needed to be cruelty-free and to only work with manufacturers that do not test on animals. I was extremely excited when that day came six months later, and I am proud to be selling products that are completely cruelty-free.
Smashbox has also donated to the Haiti Relief Effort, the Children's Miracle Foundation and Covenant House California, a shelter for homeless youth.
Smashbox's products run the gamut of cosmetics offerings, from makeup primer to blush to lipstick to eyeshadow. No nail polish, though. Like most makeup brands, Smashbox's eyeshadows and lipsticks get higher marks than their foundations and primers, which vary in their effectiveness much more than lipsticks and eyeshadows.
If you're inexperienced with makeup, applying any high-end cosmetics (not just Smashbox) can actually do you harm. If you're looking into a product, check out its reviews at Makeupalley and sort by "Most Helpful First." Good reviewers can explain why a product does or does not work for them; experts can show you how to apply it correctly
So, what's the verdict? Will Smashbox Cosmetics make you look like a movie star? If you look like a movie star, the answer is "yes." But even if you don't, they are high quality, cruelty-free and are used by many professional makeup artists. Despite mixed reviews, Smashbox has a high reputation, both ethically and quality-wise.
Links:
Smashbox Reviews on MakeupAlley
Smashbox Collections Reviewed at Temptalia.com
Related Reading:
Smashbox Photo Finish Foundation Primer
Bare Escentuals Mineral Makeup
15 Ways to Clean Out Your Closet
---
Above collage made via Polyvore.
Return to Enjoy Your Style's brands section.
Return to Enjoy Your Style's makeup section.
Return to Enjoy Your Style's home page.
Search Enjoy Your Style: