MAC Viva Glam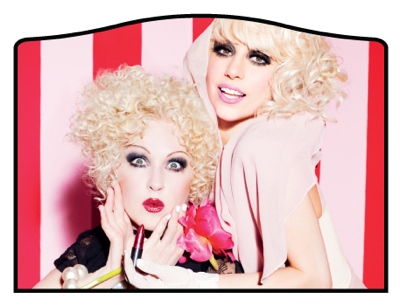 Photo from MAC Cosmetics.
MAC Viva Glam is a lipstick line, by MAC Cosmetics, which donates "every cent of [its] selling price" to the MAC Aids Fund, a charity that works to prevent new HIV infections and better the lives of HIV and AIDS patients. All shades cost $14 retail.
Viva Glam lipsticks come in a variety of red and pink shades. Viva Glam tinted lipglass comes in nude pinks only. Recently, the Viva Glam campaign has two new lipsticks, named after spokespeople Cyndi Lauper and Lady Gaga.
Because it's MAC, these lipsticks are high quality. They also come in colors that flatter every skin tone, from black coffee to skim milk. And if you want to donate to a good cause, buying any Viva Glam shade will donate $14.00 to AIDS prevention and treatment. $14 is not nothing!
What follows is a breakdown of the different shades of Viva Glam lipsticks, as well as the lipglasses.
MAC Viva Glam Cyndi and Gaga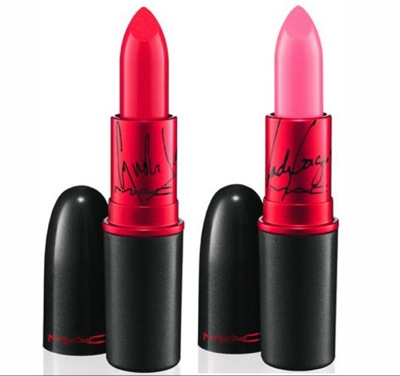 It's a great reminder of how to protect yourself before you go out at night. Put a little lipstick on, remind yourself. Give it to your kid sister. Give it to your mom. Give it to your aunt. You know, sisterhood is a powerful thing.
––Cyndi Lauper, on the MAC Viva Glam campaign
I'm hoping, and Cyndi's hoping, that mothers and sisters and best friends buy each other a lipstick and say, 'This lipstick represents you protecting yourself, having safe sex, and remembering to have loving, monogamous relationships to protect you and those around you.'
––Lady Gaga, on the same subject
Viva Glam Cyndi
is a red with a rosey undertone. It looks different on every wearer, and may be close to a "universal" lipstick shade (i.e., one that looks good on almost everyone). This is not quite a true red, nor a blood red; many reviewers aptly describe it as a "daytime red," not bright or deep enough for evening wear, but not outre enough to look out of place in the office or at school.
Viva Glam Gaga
is a blue-based light pink, great for fair-skinned summers and winters (in the color seasons chart). Because it's so light, its coverage can be dicey; a lip primer, applied under the lipstick, might be a good idea.
MAC Viva Glam Tinted Lipglass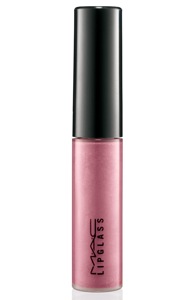 These tinted lip glosses come in two colors of nude pink, with a subtle shimmer. They are a bit on the tacky side, so if you like your glosses smooth, try a different product. One of the shades is more of a mauvish color.
Although these glosses come in neutral colors, they have a very loyal following. Although some say they are "universal" lip glosses, they might not look good on people on extremes of the color spectrum.
Viva Glam Lipsticks, I - VI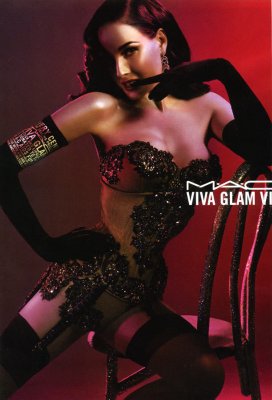 MAC Viva Glam lipsticks
come in matte, satin, frost and lustre finishes. Their shades range from bright red (Viva Glam I) to brownish pink (Viva Glam VI). Viva Glam IV is a dark, berry mauve, frosty color; the rest are straight-up red or pink.
There you have it. I hope you can find a shade that you like, and thus donate money to a good cause!
Related Reading:
The Best Black Lipsticks and Lipglosses
---
Return to Enjoy Your Style's makeup section.
Return to Enjoy Your Style's home page.
Search Enjoy Your Style: