10 Weird and Wonderful Women Musicians
(Who Eat Lady Gaga For Breakfast)
"There is nothing new under the sun," said King Solomon. He obviously hadn't met Nina Hagen. Or any of the other women on this list, all musicians with talent, originality, charisma and intelligence––not to mention a wicked sartorial style!
These women are all their own persons, confident in their individuality, wherever it may take them. And, yes, they're all weird, but not in a contrived or derivative manner. That's just who they are. Lady Gaga, eat your heart out!
10. Poly Styrene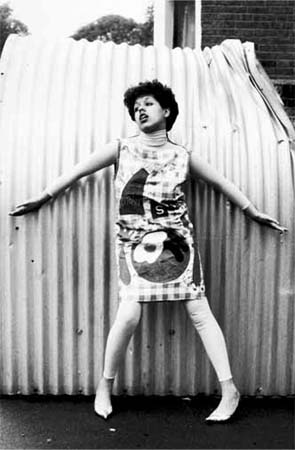 Bands & Projects: X Ray Spex
Time and Place:1970s London
Genres: Punk
Quote: If anybody tried to make me [a sex symbol] I'd shave my head tomorrow.
Poly Styrene was barely twenty-one when her band, X Ray Spex, released their only album, Germfree Adolescents
. The lyrics, written by Styrene, confronted consumerism, ageism, human relationships and "the sales machine."
Sartorial Style: Poly Styrene ran her own, eponymous fashion label in her late teens. It failed to break even or get off the ground; however, she had a lot of fun with it and created very interesting clothes. From an interview:
I would go to the DIY store and buy sink chain, which doesn't tarnish and is quite shiny and chrome plated. I would also buy plastic tubing and then I would run the sink through the plastic tubing, and turn them into chokers and ankle and arm bracelets. It was funny, because I had people like Marianne Faithfull, Amanda Donohoe and Paula Yates coming in and buying them. I am sure that they didn't know that I had bought it at the DIY store...

One of my friends, Sophie Horgan, was at fashion school. I designed some things and she made them for me. There was an eggs and bacon dress, which we did just for a laugh. We went down to Peter Jones and I bought some vinyl table cloth fabric. I then asked Sophie to applique an eggs and bacon design like a working man's greasy fry up on it. I thought that it would be funny to put it on a dress, especially as I was a vegetarian and I didn't eat stuff like that. (source)
Styrene closed down the boutique, since the band was taking off and she had to choose one or the other. But her fashion sense didn't just stop on a dime once she took up with the band. Press photos and videos from that time show Styrene wearing proto-Ghost World outfits, such as a bright blue pantsuit, army helmets, black leather soldier's caps, and handmade, A-Line dresses in interesting patterned and shiny fabrics.
Styrene had an afro, which she accessorized with hats, helmets, head wraps and ribbons.
Styrene's most famous accessories were doubtless her braces. Though in her late teens and early twenties, Styrene's braces made her look much younger and, somehow, more threatening.
9. Emilie Autumn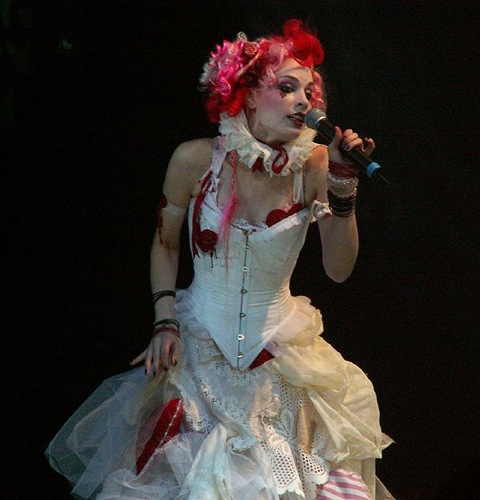 Photo by Jan Blok.
Bands & Projects: Solo Artist, Ravensong
Time and PlaceUSA, 1990s-Present
Genres: Experimental, Ambient
Quote: Women who focus on style over substance usually find themselves in a big fucking hole, with other men who want to fuck the hole. Oh so smooth, and none sophistacted. Because, you know, how sophisticated can hole fucking really be?
Emilie Autumn learned to read music before she learned to read. While receiving a classical musical education, Autumn released a compliation of classical music when she was 17, and played with a renaissance rock group, Ravensong, in her early twenties. Currently she releases solo records and tours with her own band, The Bloody Crumpets.
Sartorial Style: Autumn takes gothic lolita and neo-victorian punk to extremes. She wears corsets, petticoats, striped socks and garters. Often she wears all white, albeit white accented with red hearts, bloodstains and strips of cloth.
Autumn's dress sense has gotten her into trouble before, especially at the Conservatory at Indiana University. In her own words:
They would say, "Oh my God! You're going to go on stage like that?...You're distracting people from listening. You are not what is important. You are literally a vessel for the music of some person who has been dead for some hundreds of years. You are meant to keep your individuality out it, because it's not about you."...Fuck yeah it's about me, because you're dead and I'm not and I'm the reason why anybody's getting to hear your fucking music. And guess who would have agreed absolutely? The guys who wrote it...Mozart is not going to have a problem if some girl is not wearing sleeves.
Emilie dyes her hair bright, pillarbox red, often curling some sections and leaving others straight. Her makeup is theatrical, with pale skin, black eyeliner (or dramatic eye makeup) and dark lips. She also sometimes draws a red heart below one of her eyes.
8. Betty Davis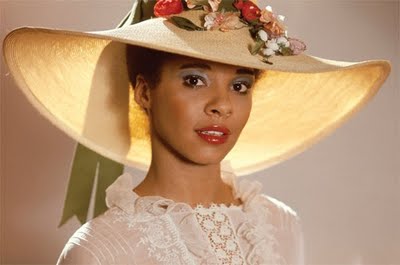 Bands & Projects: Solo Artist
Time and Place 1970s USA
Genres: Funk
Quote:
Betty Davis (not that Bette Davis) was married to jazz legend Miles Davis for about a year. It was she who introduced him to Jimi Hendrix and Sly Stone. After their marriage broke up, she went on to create three albums of awesome, high-charged funk, exerting great creative control over her projects.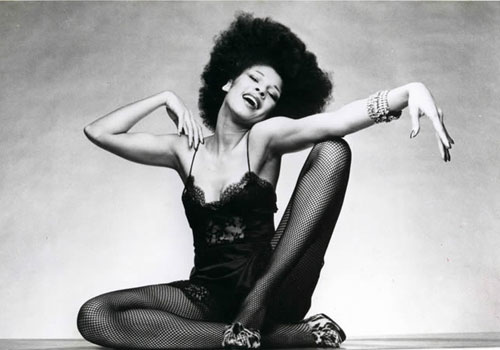 Sartorial Style: "They Say I'm Different
" was the title of Davis's second album. "They" are right. Davis appeared on the album's cover in what can best be described as a cosmic leotard, gold hoop earrings, a gold arm bracelet, a silver bracelet, dark red nail polish and blue platforms with blue fur trim.
Davis's style, in press photos at least, was highly sexual. Press and stage photographs show her in 1970s sex-kittenish outfits, such as Daisy Dukes with a button-up shirt tied in front, a zebra-print, cleavage-revealing leotard. For the cover of her album "Is it Love or Desire?", Davis wears a vintage, high-collared white dress and wide-brimmed, beflowered straw hat. She's lifting up the skirt to show her garter belt beneath, as well as the top of a her black stockings.
I Let My Tape Rock Wallet
for $7.99.
7. Jun Togawa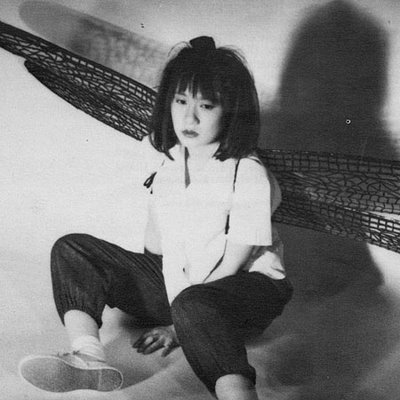 Bands & Projects: Solo Artist, Guernica, Otomo Yoshihide's New Jazz Ensemble, Yapoos
Time and Place Japan, 1970s-Present
Genres: Punk, Synth Pop, Jazz, ???
Quote: 好き好き大好き!愛してると言わなきゃコロス!(say you'll love me, or I'll kill you!)
Like most of the women on this list, Jun Togawa started early. In the early eighties, Togawa, then barely twenty, was an unusual idol singer, singing chipper and strange pop songs about menstruation, becoming an insect and obsessive love, among other things. She was not your typical idol.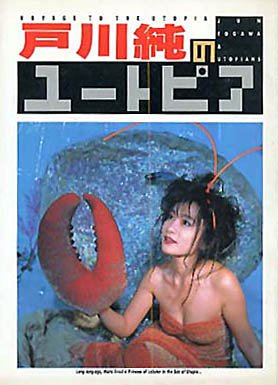 In the past thirty years, Ms. Togawa has led a fruitful career, hopping across musical genres while staying true to herself.
Sartorial Style: Oh gosh. Where to begin? Ms. Togawa is perhaps best known for wearing a fluorescent pink dress with insect wings, one of her original "idol" outfits. She would often complete this outfit with black, elbow-length gloves and a hat in the shape of a flower. Music videos show her wearing any number of costumes; in the video for "Suki Suki Daisuki" (好き好き大好き), Togawa dresses as 1. a schoolgirl in a sailor fuku, 2. a nurse, 3. a glamorous fashion model, 4. a little girl holding onto a grown-up man's arm, 4. a geisha, 5. a 1920s movie star and 6. even more costumes, which probably have some significance in Japan that's lost on me here.
In her youth, Togawa dressed almost in parody of the idol singers of the day, with frilly, flowery and fluorescent pink dresses, shiny belts and long gloves, often combined with strange accessories, like the insect wings mentioned above.
6. Lydia Lunch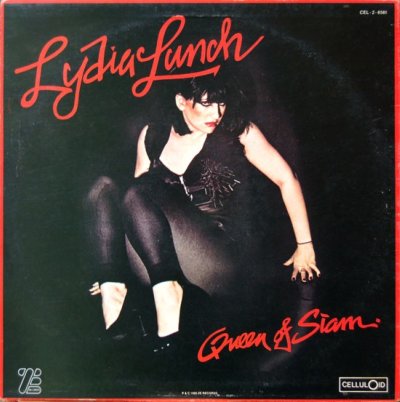 Bands & Projects: Solo Artist, Teenage Jesus and the Jerks, 8-Eyed Spy
Time and Place1970s New York-Present
Genres: No Wave, Experimental, Spoken Word, Free Jazz
Quote: The female format is a beautiful one in which to function. Foolhardy as it may be. I change my image all the time, it's whatever suits me at the moment.
Lunch first found infamy as the lead singer of Teenage Jesus and the Jerks. She was a teenager, but still an influential force behind the no wave movement. She has gone on to a successfully marginal solo career, releasing albums, books and starring in transgressive films, most famously Fingered
by Richard Kern.
Sartorial Style: Lydia Lunch, in part, inspired the original goth aesthetic. Her wardrobe is dark, if not monochromatic, her hair usually dyed black or black with colored streaks. Judging by photos on her website her hair is currently a dark red.
Another signature aspect of Lunch's look is her makeup. She often wears black eyeliner and dark red lipstick, which effectively drowns out the rest of her face, especially with bangs over her forehead.
5. Nina Hagen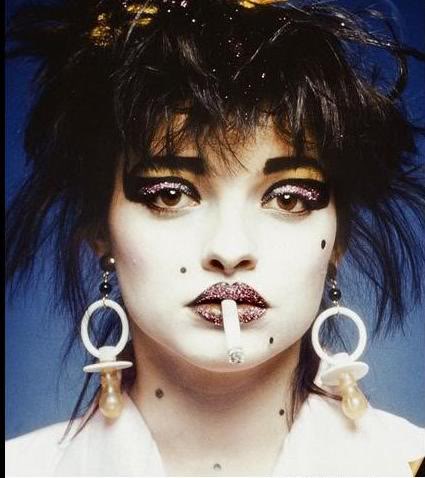 Bands & Projects: Solo Artist (also with "the Nina Hagen Band"), Fritzens Dampferband, Automobil
Time and Place 1970s East Berlin
Genres: Punk, Opera, Cabaret Music,
Quote: You have to see my show to believe that I'm the only unique Nina Hagen on this planet.
Like Emilie Autumn, Nina Hagen was a musical prodigy. Growing up in East Berlin, Hagen started performing opera before she turned ten years old. Her step-father, a dissident singer, influenced her thoughts and feelings about the establishment. She left school at age sixteen and became a full-time musician.
In 1976, she and her mother left East Germany following her step-father's expulsion. She traveled through western Europe and arrive in London, where she was taken up by English punk rockers, including Johnny Rotten.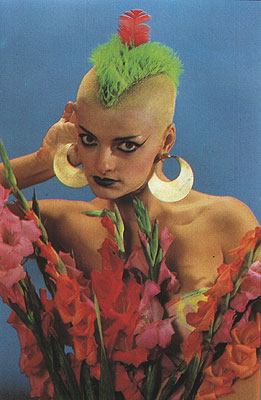 Sartorial Style: Hagen's theatrical vocal style is more than matched by her theatrical dress sense. This article is too short to chart her entire sartorial evolution. Suffice it to say that her hair has been every color of the rainbow, her makeup is usually dramatic and her accessories are often unusual (see the pacifier earrings above) yet distinctive.
4. Lizzy Mercier Descloux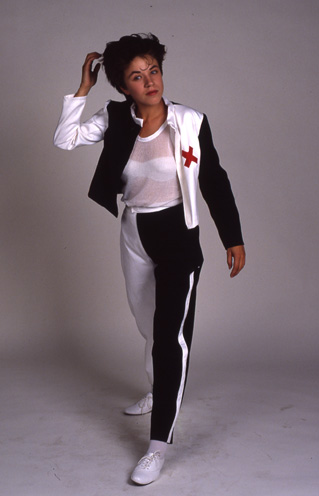 Bands & Projects: Solo Artist
Time and Place: 1970s New York - France, 2004
Genres: No Wave, Funk, Jazz, Experimental
Quote: At 17 she was more sophisticated than anyone I'd known, while also seeming utterly unaffected. Or at least her affectations came from such a stubborn confidence and will to defy convention that they were irresistible. (Richard Hell)
One of the original members of the NYC No Wave movement, Descloux was friends with the likes of Richard Hell and Patti Smith. Her training in art rock influenced her later albums, which were strongly influenced by African music and her trips through Africa and Brazil.
Sartorial Style: Press photos of Descloux show her in androgynous dress, often a tuxedo like the one above. Like other women in the no wave movement, her personal style was very "art student" without being seductive or over-the-top.
Later photos show Descloux tanned and dressed in more casual clothing, perhaps a result of her visits to Africa, Brazil and her life in France.
3. Janelle Monáe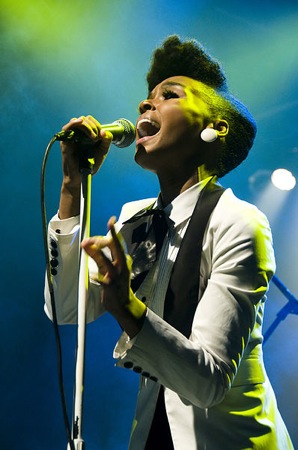 Photo by Seher Sikandar.
Bands & Projects: Solo Artist
Time and Place Present
Genres: Afro Punk
Quote:I feel like I have a responsibility to my community and other young girls to help redefine what it looks like to be a woman. I don't believe in men's wear or women's wear, I just like what I like.
Janelle Monáe originally aspired to perform on Broadway, but her limited options and the power of music changed her mind. Like many other performers on this list, her
Sartorial Style:Ms. Monáe's signature outfit is a slim-fitting tuxedo, a pompadour and some unusual type of tie, bow-tie or even an ascot. She also sometimes wears black-and-white sunglasses.
2. Grace Jones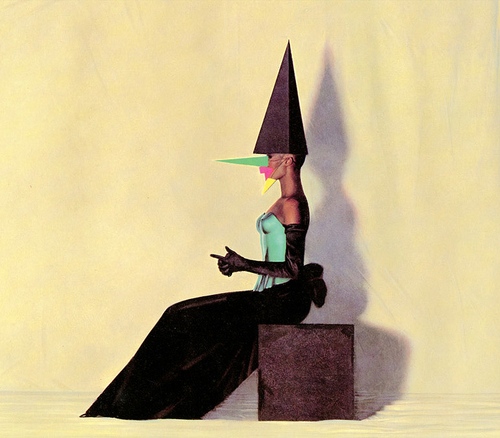 Bands & Projects: Solo Artist
Time and Place 1970s New York-Present, New York
Genres: Cabaret Music, Disco, Pop, Experimental, Reggae
Quote: What's wrong with being a sex machine, darling?
If you don't know Grace Jones, shame on you! A supermodel, diva and chanteuse extraordinaire, Grace Jones dated Dolph Lundgren, starred in "View to a Kill," was painted by Keith Haring and became known for her provocative "acting out."
Sartorial Style: Jones's style has always been high fashion, emphasizing her slim and muscular build. With dark skin and African features, Grace Jones has often capitalized on her image, which is so different from the Western standard of beauty. Her hair is usually shaved or short, in a type of flat top hair cut that still makes her look quite feminine.
1. Eva Tanguay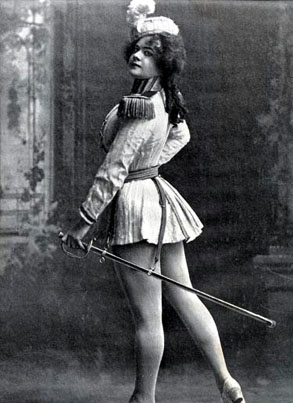 Bands & Projects: Solo Artist
Time and Place USA, 1900-1930
Genres: Vaudeville
Quote: I don't care!
The girl who made vaudeville famous, Eva Tanguay was larger than life. She earned the admiration of Aleister Crowley, who called her "the soul of America at its most desperate eagle-flight...the perfect American artist...ineffably, infinitely, sublime." Shocking for her day and age, she wrote her own songs, many of them odes to and about herself. Some were shockingly explicit for the time, with titles like "Go As Far As You Like, Kid." From an article on Slate:
If you read the press and popular literature of the first quarter of the 20th century, Tanguay is inescapable. Edward Bernays, the celebrated "father of public relations," called Tanguay "our first symbol of emergence from the Victorian age." The journalist and playwright George Ade dubbed Theodore Roosevelt "the Eva Tanguay of politics." One of her hits was titled "They'll Remember Me a Hundred Years From Now." To Tanguay's contemporaries, it must have seemed less like a boast than a foregone conclusion.
Sadly, Tanguay is now largely forgotten. In the last years of her life, she lost her money, eked out a meagre living selling her costumes, surrounded by faded clippings from her heyday.
Sartorial Style: Tanguay created, or thought of, many of her on-stage costumes. She was "a madcap woman on the verge," exciting the audience and inviting them to join in her madness. She made costumes out of pennies (the $40 dress was made out of 4,000 pennies), dollar bills, a dress made of coral that weighed 40 pounds. She spent lavishly on costumes, sometimes outspending her salary.
Tanguay was, by today's standards, "fat." Closer inspection though shows that she is quite muscular, with fleshy shoulders and powerful legs. (Don't tell Robert Crumb!) She often wore a corset, which accentuated her hips and her chest. Her curly hair was often worn long; one can almost imagine it billowing about her during her act.
Related Reading:

---
Return to Enjoy Your Style's style icons section.
Return to Enjoy Your Style's home page.
Search Enjoy Your Style: