Colored Mascara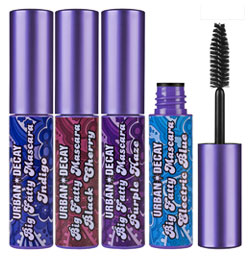 Big Fatty Mascara from Urban Decay.
Have you been thinking about colored mascara? You're not the only one. Brands like Yves Saint Laurent and Urban Decay have started carrying mascara in colors like blue, purple, green, even white glitter! If you're looking for the right color for you, here is a good guide for you.
Blue Mascara is great for people whose skin has a blue undertone, with blue eyes, or blue flecks in their eyes. This is also the most widely available colored mascara. If you are a blonde, or a light brunette, blue mascara might be the best option for you.
Purple Mascara is available in various shades, from very dark to almost neon bright. Light purple looks great on fair blondes; dark purple looks good on women with dark complexions. If you have green or hazel eyes purple is also a good look.
Green Mascara is a great choice for women with green eyes, with green flecks in their eyes and women with olive complexions.
Pink Mascara is available; it looks best on very pale women. If you're going for a dramatic look, or a cyber-lolita look, give this some consideration.
White Mascara brings attention to your eyes, and makes any light flecks in your eyes pop out.
Glitter Mascara is hard to find, but it is out there. A great choice for parties and gay pride parades. Just be careful as it is hard to remove.
Neon Mascara is available at some specialty shops, especially in the United Kingdom, and (possibly) at Hot Topic. If you're stateside, though, don't hold your breath. A great option for raves and for Halloween, if not the office.
Related Reading:
MAC Lipglosses
Can you recommend us a great mascara? If so, write a makeup review for us! It's easy to do. How? Simply visit our Makeup Reviews page and fill out the form. We'll e-mail you when it's published.
---
Return to Enjoy Your Style's tutorials page.
Return to Enjoy Your Style's makeup page.
Return to Enjoy Your Style's home page.
Search Enjoy Your Style: