Goth Loli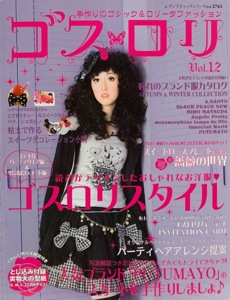 Goth Loli is a Japanese-language magazine which features detailed sewing patterns for gothic lolita clothes and accessories. The sewing patterns are in Japanese, but with a little bit of work and a little bit of Japanese, one can figure them out. The magazine's title is written "ゴスロリ" and is sometimes romanized to "Gosu Rori."
Unlike the Gothic and Lolita Bible, which focuses on consumer goods, Goth Loli is all about sewing patterns. Of course, there are advertisements, but the focus is less commercial.
If you don't know any Japanese, following the patterns can be very tricky. Gothic Lolita fashion involves a lot of frills, ruffles and lace. The patterns are thus quite complex.
Those with a little Japanese, and sewing expertise, might fare better. For those with the latter but not the former, check out Batty-chan's guide on "Understanding the patterns in Gosurori ( Goth Loli ). (PDF)." Her guide has both Japanese syllabary, relevant kanji, your measurement in metric terms, as well as some useful tips on visually reading patterns.
Like most Japanese books and magazines, this one reads from right to left; when looking at the front cover, the spine will be on your right side. The first twenty pages or so are full of photo spreads like the one below, showing the items in action. The back pages are full of references, though if you live outside of East Asia, how useful will they be to you?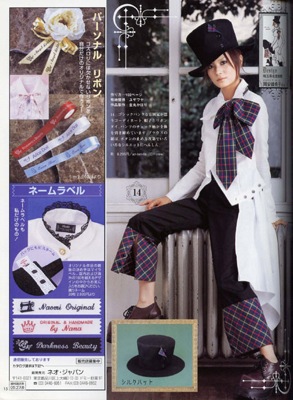 You may be reading this and feeling intimidated. Do you need a PhD in Japanese and another one in fashion design to understand this book? No, you don't. If you're a good sewer, Batty Chan's glossary and sizing might be all you need. Plus, if you've been waiting for ages to make your own gothic lolita dress, purse, hat or other accessory, this is your chance!
If, however, you're just looking for style inspiration, I would recommend the Gothic and Lolita Bible instead.
Goth Loli available at Anime Castle.
Related Reading:
---
Return to Enjoy Your Style's book reviews.
Return to Enjoy Your Style's subcultures section.
Return to Enjoy Your Style's home page.
Search Enjoy Your Style: