Amber Renee Interview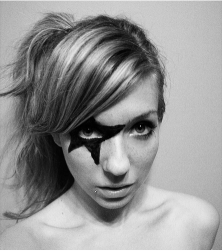 Amber Renee is the founder of Miseducated.net, a blogazine full of unconventional and inspirational images, recipes and crafts projects. Ms. Renee is also an accomplished artist and designer.
Enjoy Your Style recently interviewed Amber (via e-mail) about life, work and love. This interview is reproduced below.
ENJOY YOUR STYLE: Tell me something about your job. What is your work schedule like? What's your favorite part of your job? What do you have to "just get through"?
AMBER RENEE: I'm a full-time artist and blogger so I make my own schedule usually. To be easily accessible I start work in the morning and then usually never stop. I do take naps (new pregnant lady activity!), go out, enjoy extracurricular activities and the like but I have no set stop time. I might go out all day, come home and work until 5am, who knows?
EYS: In your artwork, you seem to like very bright colors, especially rainbows. Has this always been the case with you, since you were little?
AR: Yes, I have always loved rainbows. As a child in the 80s my favorite cartoons were packed with them and it was common then for everyone to wear rainbows. I had rainbow crayons, had taken all of my mother's rainbow objects and enjoyed rainbows strewn about my environment. They're such a special occurrence––they always force me remember how wonderful life can be. Color is as important to me as food, I live for it.. Although I believe great design can be done in black and white, I am and always have been an avid supporter of every hue.
EYS: What's your favorite color?
AR: I really love the color purple. I love how it can be grape soda, grape bubblegum or fancy lilac––every time I start a project I seem to want to make it pink or purple.
EYS: What is your favorite item of clothing (that you own)?
AR: I'm a little sad because at 6 months pregnant my stomach is quite a basketball. Most of my cute little outfits no longer fit. I would have to say my panda pettipants. Or any of my pettipants. I know it's probably crass but I love wearing them with t-shirts and empire shirts.
EYS: What is your favorite makeup product?
AR: Eyeliner and mascara. I know you said one but I really cannot live without either of them. I also prefer to have some tasty-scented lip balm to smooth on my lips as often I like.
EYS: You're given $5,000, out of the blue. What do you do with it?
AR: I save it! I'm having a baby girl in July AND I've been working hard for Miseducated––who knows what I'll need it for?
EYS: Finally, I ask everyone this question, so I'd like to ask you. If you could raid anyone's closet, and have the clothes magically fit you, whose closet would you raid? You can specify a year, too, e.g. "Queen Elizabeth I of England's, in 1585."
AR: Marie Antoinette of 1750s France, of course, I can't imagine dressing like a cake everyday and having all of that decadence constantly surrounding you. I could also choose Mia Farrow in the 1960s, I'd gladly raid the Rosemary's Baby set of all of its mod tent dresses!
Visit Amber Renee's websites:
Related Reading:
---
Return to Enjoy Your Style's interviews page.
Return to Enjoy Your Style's home page.
Not what you're looking for? Find it, below: