Bobbi Brown Gel Eyeliner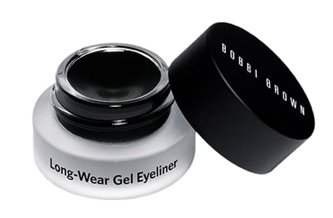 Bobbi Brown gel eyeliner comes in thirteen different colors, from dark black to chocolate to emerald green. It comes in gel pots; you need a makeup brush to apply it.
This gel eyeliner is one of Instyle's Best Beauty Buys. It consistently receives good reviews; 86% of Makeupalley users would buy the product again. Although it may take some practice to apply correctly, many users praise it for being "super long-lasting" (nolly99) and "soft and natural" (scopingforyou).
Reviewers on totalbeauty are more mixed. "Too expensive," "too flaky" and "product dries out in the jar" are the most common complaints. However, the product's average rating was 8.7 out of 10––for comparison, MAC Viva Glam lipstick gets a 9.2 out of 10.
Bobbi Brown's gel eyeliner costs $21 for 0.1 ounces of product. It does not come with a brush. Consumers looking to try out gel eyeliner might prefer to experiment with cheaper brands before "graduating" to Bobbi Brown. If, however, gel eyeliner is already a part of your look, and it's worth it to you to look good, why not try it? The worst case scenario is that it'll suck and you'll be out about 20 bucks.
You can buy Bobbi Brown gel eyeliner online at Sephora, Bergdorf Goodman or Bobbi Brown's own website.
Buy Bobbi Brown Gel Eyeliner
on Amazon.com
.
Related Reading:
Bobbi Brown Cosmetics
Bobbi Brown Shimmer Brick
Kinderwhore Makeup
Cheap MAC Makeup

---
Return to Enjoy Your Style's makeup section.
Return to Enjoy Your Style's makeup brands section.
Return to Enjoy Your Style's home page.
Search Enjoy Your Style: