Dita Von Teese, Style Icon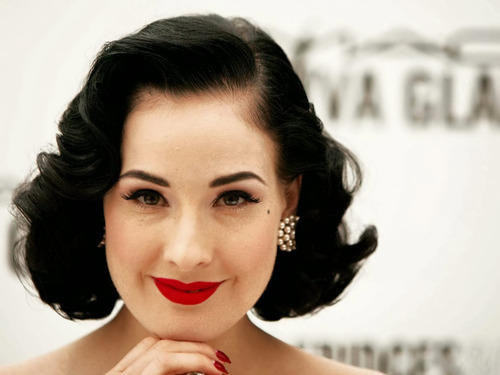 Dita Von Teese is a burlesque performer, model and occasional actress. She is also an author of several books, including Burlesque and the Art of the Teese
. Though a natural blonde, Von Teese dyes her hair black and emulates the classic beauty of 1940s movie stars, as well as pin-ups like Bettie Page.

Shop ModCloth's Sale Section to Find Your Fave Indie & Retro Styles at 25% Off! Offer Ongoing
Dubbed the "Queen of Burlesque," Von Teese's unique sartorial style has been showcased in fashion magazines, commented on in gossip magazines and copied by other celebrities, most notably (and painfully) by her ex-husband's new girlfriend. More than any other current celebrity, Von Teese shows how what you wear is important, even if your job is to take it off.
Dita's Hair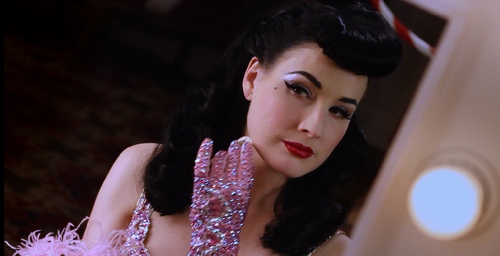 Dita Von Teese, naturally blonde, dyes her hair black and has for almost her entire career. Because of the nature of her job, Von Teese often models retro hairstyles, such as curled bangs, marcelled waves and severe updos.
These hairstyles come from the golden age of Hollywood, especially the 1940s and 1950s, when voluptuous curves––in the hair and elsewhere––were the preferred look. Although Von Teese's hair is naturally straight, it is rarely without curl or wave.
Dita's Makeup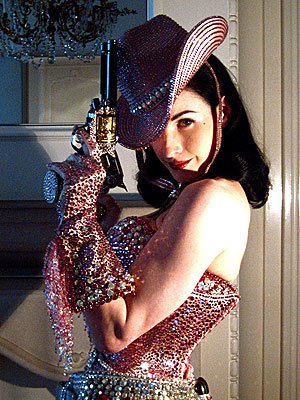 Dita must have beautiful skin, because her makeup always looks like the photo has been pre-airbrushed. Her look resembles the looks in Hollywood's golden age, from the 1920s to the 1950s, especially the 1940s and 1950s.
Matte red lipstick and cat eyes are almost Von Teese's trademarks. However, she does change her look from time to time, using pink lipstick instead of red, or normal eyeliner instead of cat eyeliner.
Dita's Style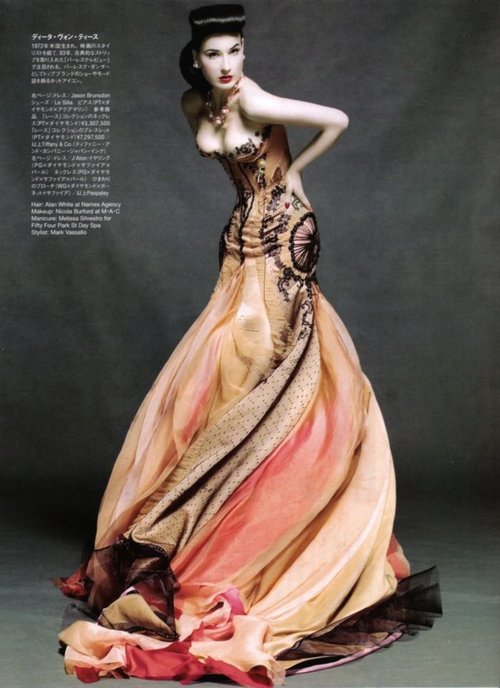 Von Teese is a tightlacer, i.e. someone who narrows their natural waistline through daily wearing of a corset. Her waist is now 16.5 inches around.
Corsets, and stockings are integral parts of Von Teese's act. As a fetish model, these are extra items to be "taken off." They can also be worn while exposing the breasts, backside and, erm, frontside––an important part of the tease.
Theatricality is also part of the tease. Dita's burlesque costumes are all designed by Catherine D'lish, a fellow burlesque performer, known for her swarovski-crystal-studded garments, bright colors and revealing cuts.
Von Teese's "formal" outfits often have a retro, pin-up feel to them. She prefers, by her own admission, vintage clothes, saying "I feel more comfortable in a 50s slip with a couple of holes in it and a stain on the front than in a pair of sweatpants with 'University of Whatever' on them." She also models for brands like Christian Dior, MAC Cosmetics and Marc Jacobs. Her outfits tend to emphasize her narrow waistline and show off her shoulders, either by revealing them or accentuating them in the design.
"[A]s Von Teese performed, [three fashion personalities] stared wide-eyed at the spectacle, with the kind of embarrassed smiles that you see at hen's nights [bachelorette parties]," wrote Patty Huntington in the Sydney Morning Herald. "This struck me as odd given the volume of [near-naked women] with which the backstage are of any fashion show is usually littered." Well, exactly! That nudity is pragmatic, even clinical nudity. Von Teese takes fashion––which is, essentially, about becoming naked––to its logical conclusion.
Related Reading:
Finding the Right Hair Color for You
---
Return to Enjoy Your Style's style icons section.
Return to Enjoy Your Style's home page.
Search Enjoy Your Style: