Find the Right Hair Color For You
Photo by Alicia Lynn.
The right hair color for you will reflect your personality and make you look good. How hard is it to find? It's not!
Hair color is a deeply personal subject, but there's no real "right" or "wrong"––unless you dye with the blood of innocents, that is. Whether you color your hair, highlight it, touch it up or leave it au naturel is nobody's business but your own.
Below, we'll explain some common procedures, and some ideas to keep in mind when finding the right hair color for yourself.
If you feel like your hair color doesn't accurately express your personality, and you need some help in choosing a hair color, you've come to the right place!
Skin Tone and Undertone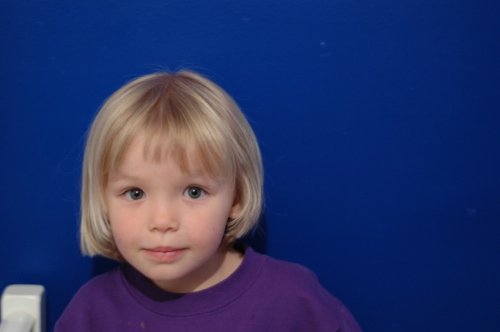 Photo by Nathan Jones.
Even if you're blind, you know that people have different skin tones. Is everybody's skin tone unique? Well, depends on who you ask. What is uncontested is that skin tone fits into general patterns, it's hereditary and different skin tones look good with different colors.
What really makes certain colors "pop" is the skin undertone. Everybody's skin––everybody's––has an undertone of either blue, yellow or blended blue/yellow. These are sometimes called cool, warm and neutral undertones, too. If you're not sure which yours is, see a professional makeup artist or colorist for ideas, or ask friends for their opinion(s).
If your skin has warm undertones, stick to warm, red- or yellow-based colors, like auburn, honey blonde or golden brown. If your skin has cool undertones, stick to cool colors, like bluish pink, cool blonde, royal purple, blue red, et cetera. Neutrals are free to experiment--the lucky devils!
How do you determine if a certain dye is warm or cool? Ask a hairstylist! You can also ask to do a test on a small clip of your hair, then hold it up to the light, see it under fluorescents, in the sun, and so on. You can also ask the manufacturer; say "I'm looking for a nice cool blonde/pink/gray dye. Can you help me find one in your line?"
Personal Expression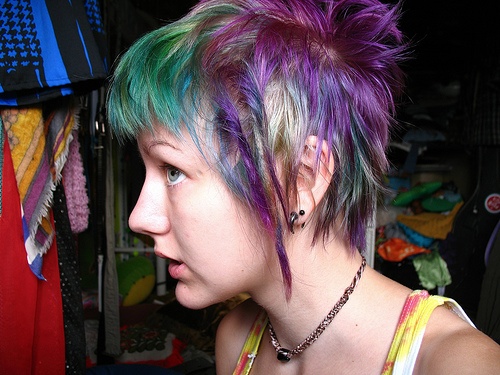 Photo by Vanessa Yvonne.
Many people look great with their natural hair color. To others, this color never quite felt "right," and they feel more like themselves in another shade.
This is not just people who dye their hair every shade of the rainbow; Nick Cave and Dita Von Teese have dyed their hair black since their early twenties, while Marilyn Monroe, Debbie Harry and Dolly Parton are naturally unnatural blondes.
If you feel a deep longing to change your hair color, what's stopping you? The worst that can happen is you discover it's not the right hair color, and it grows out. That sucks, but that's it.
Complexion Issues
If you have pockmarks, blackheads, facial scars, blemishes or other imperfections, try a light, semipermanent dye. Darker dyes can really show up the imperfections on your face, especially if your skin (and hair color) are naturally light.
Going too dark can also make you look older. Go dark with caution!
Natural Shade
Hair and beauty blogs advise you to "never go more than 2 shades from your natural hair color" if you're not going to a salon. They advise this for a reason. Also, even if you want to dye your hair yourself, leave bleaching to a professional.
Pick a Salon You Trust
How in heck can anyone find the right hair color for you, when you haven't even found the right hair salon for yourself? Find a stylist you can trust, who listens to you and does as you asks. Even if it's expensive, it will be worth it!
Related Reading:
Lady Gaga - A Dissenting Opinion
center>
---
Return to Enjoy Your Style's hair color section.
Return to Enjoy Your Style's home page.
Search Enjoy Your Style: