Easy Homemade Gift Ideas
for Women
Even if you're not a craft maven, you can make something that's worthy of the women in your life. These easy homemade gift ideas can be made in an afternoon, using (mostly) around-the-house supplies.
Some of these homemade gifts are easier to make if you have some knowledge of sewing, or have done crafts before. Don't be worried if you're new to homemade gifts. I've included plenty of tutorials and resources to help you.
1. A Book Handbag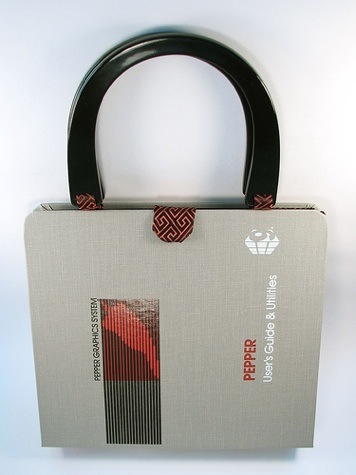 Photo by Laura Edman.
You can make a stylish handbag out of a hardcover book and some fabric. If the thought of ripping apart a book gives you the willies, you can use a binder instead. Although this is an easy gift to make, having some prior knowledge of sewing will make it a bit easier.
How can you make a book handbag? Curbly.com has released an excellent video tutorial on making a book handbag, which you can watch below:
If you learn better by reading, check out Curbly's accompanying article.
If you like the idea of "upcycling" books, Jason Thompson's Playing with Books
has some wonderful, though not necessarily easy, bookcraft projects.
2. Lip Balm
You can make quality lip balm in your own kitchen, for less than a tube costs in the store. This gift makes a great stocking stuffer, but an attractively-presented set of lip balms makes a nice gift as well.
The hardest part of making lip balm is finding the ingredients, such as beeswax pearls
and jojoba oil
. Most, if not all, of these ingredients can be found at a Whole Foods-type grocery store, as well as online.
Containers for lip balm can be found at many craft stores, like Michael's, and at websites like Sun Burst Bottle Company. You can buy these containers in bulk for very cheap, which allows you to make a lot of lip balm at once.
Before you go ingredient shopping, you need a recipe. Crunchy Betty has three delicious homemade lip balm recipes on her website. She also has some excellent advice in the first paragraph: after you've set your lip balm to cool, just walk away. Otherwise, the temptation to touch it will be too great. She speaks the truth!
"From Nature With Love" has over two dozen lip balm and lip gloss recipes as well.
And here's a beeswax-free recipe for any vegans out there.
Some of these recipes call for a double boiler
. If you don't have one and can't buy one, you can prepare the ingredients in a heat-proof bowl (or another pot) over a pot of simmering water.
Kiss Naturals makes an inexpensive Lip Balm Craft Kit
, which makes this homemade gift even easier to make.
3. Feather Earrings
Before you make this gift, make sure that your friend's ears are pierced. If they aren't, you can still make her (or him!) some feather earrings, as long as you use clip-on earring findings.
Also, make sure she doesn't have a bird phobia.
To make feather earrings, you need feathers, pliers, scissors, flexible jewelry wire earring loops and findings. It should take about 10 minutes to make both of them. Here's an easy instructional video, from The Coveted:
For written instructions, check out this tutorial by Domestic Diva.
4. A Chiton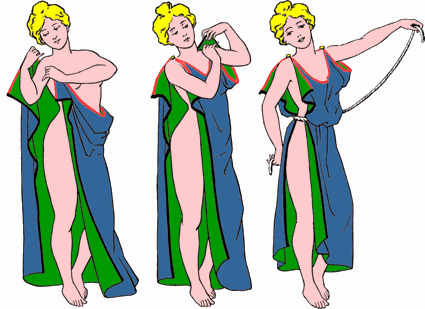 A chiton is a garment from ancient Greece. Its classic silhouette has been used by many designers as a template for their own works. You do not need to know how to sew to make one; all you need is a large sheet of cloth, at least two brooches, pins and a rope.
To make a simple chiton, wrap the sheet around the body once, pin it at the shoulders and tie a rope around the waist. (A slightly NSFW visual guide can be seen here.) You will want to fasten up the side, either with pins or with colorful brooches.
Ket.org has an easy guide to making chitons, peplus and other ancient Greek garments.
5. A Tote Bag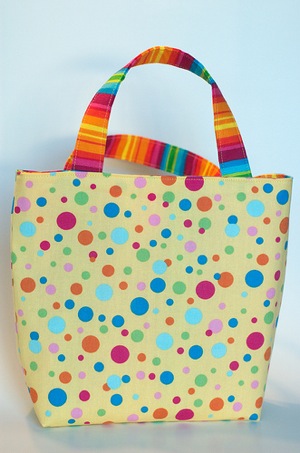 Photo by mbaylor.
Tote bags are easy to make, and make a very useful gift. They are also a "green" gift, especially when they're used instead of grocery bags.
You can make tote bags out of t-shirts, duct tape, fabric and duct tape, even oilcloth and pillowcases.
6. A Custom T-Shirt
Silkscreening a one-color design onto a t-shirt is very easy––with a bit of practice. Kristy, at craftgrrl, has made a cheap, easy screenprinting tutorial which I have often used for several simple designs.
For her tutorial, you need an embroidery hoop, sheer material like tulle or nylon, a pencil, elmer's glue and whatever paint you're going to use on the shirt.
If you're nervous about staining the shirt, practice screenprinting your design onto cardboard, e.g. the inner sleeve of a cereal box.
If you want to try something different, try stenciling a design onto the shirt. This is a bit more time-consuming than silkscreening though.
7. A Transformed T-Shirt
Why not modify a t-shirt into a more flattering shape? There are many ways to perform "T-Shirt surgery." You can turn an old t-shirt into a laptop sleeve, a skirt, a halter top and more.
A word of caution: if you don't know your friend's measurements, avoid the more risque t-shirt transformations: you might wind up with a shirt that's not very flattering or too small. Sistahs of Harlem's T-Shirt Makeovers
has some easy reconstructions that are fairly universally flattering, while Tease
will show you how to make an apron, toga, chair cover or iPod cozy out of a t-shirt.
8. Paper Dolls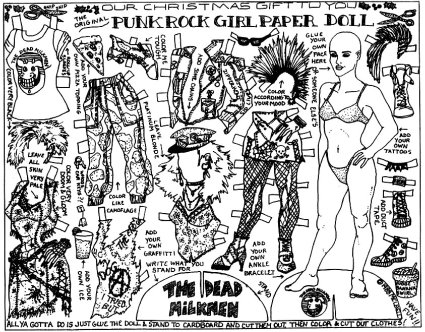 Not sure how to make a paper doll? Read our tutorial here. If you already have a paper doll and want to customize it, The Big-Ass Book of Crafts
has several great projects for making custom paper dolls, including dressing them up with fabric and flowers.
Finally, if you're not too concerned about the "easy" part of making an easy homemade gift, you can always make a dollhouse of collage, as outlined in Oliveau and Molina's excellent book on the subject
.
9. A Home Spa Kit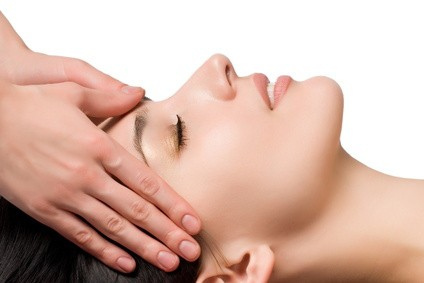 Photo by o5com.
Stress is a constant in modern life. A simple spa kit might be one of the best presents your friend receives. You can make lovely, very simple spa kit items just using ingredients from your kitchen. Here are some possible recipes:
10. A Necklace
There are many attractive necklaces that can be made in an afternoon, even in a few minutes. The easiest, of course, is to put a pendant on a cord, like this cute cat necklace. You can also make a coin necklace with very basic supplies out of the garage.
If you have Yen coins from Japan, or any coins with a hollow center, you can easily make this coin necklace with a candle and some twine.
If you have some chord and beads, you can make a simple necklace or choker, too.
Read More:
Last Minute Valentine's Day Gifts
---
Return to Enjoy Your Style's gifts section.
Return to Enjoy Your Style's home page.
Search Enjoy Your Style: