Gothic Lolita Dresses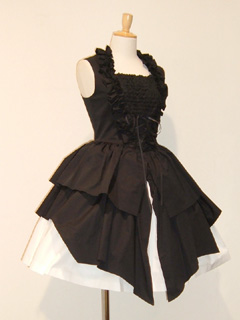 Dress by Atelier Boz.
Gothic Lolita dresses are defined by four near-universal characteristics:
A fitted bust with a high neckline.
A wide skirt ending just above or below the knee. Classic Lolitas prefer an A-Line, while others go with a bell-shaped skirt.
Gothic colors. Many sweet and gothic lolita dresses are identical, save for the fabric. Think blacks, burgundies, purples, dark navies, whites and very pale pinks.
Ruffles, laces and bows.
These dresses borrow liberally from Victorian and Rococo fashions, as well as maid costumes from the 19th and 20th centuries. They are often paired with a matching bonnet or headdress.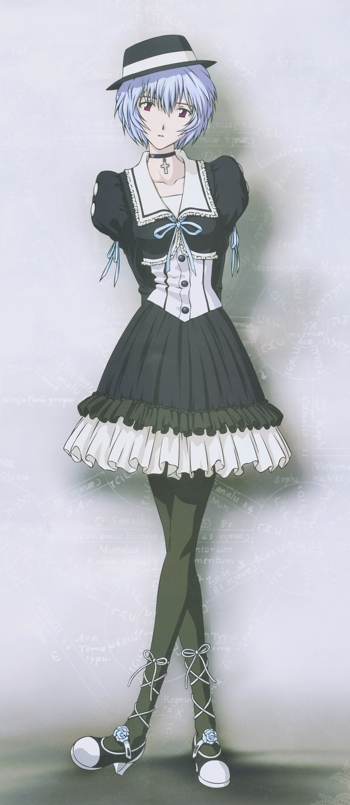 If you're looking to make your own gothic lolita dress, I suggest Goth Loli magazine as a starting point. You do, however, need to know some Japanese (or be handy with a glossary) to decipher their patterns.
Also check out the Lolita Handbook, a livejournal which serves as "a way to ease beginners into the fashion and provide resources to more experienced lolitas." Another livejournal worth checking out is Elegant Gothic Lolita, which features articles on ordering online, buying from abroad, making your own gothic lolita clothes and other important topics.
If you're looking to buy, look to ebay. An ebay search on "gothic lolita dress" turns up ~3-4,000 auctions on any given day, with prices ranging from $50 to $500. Be vigilant and you're sure to find one that suits you.
You can also check out this list of Japanese shopping services, that will buy from Japanese shops and ship to the United States and Europe. Also see this list of western shops.
If you're in North America, Baby, The Stars Shine Bright has a store in San Francisco, California's Japantown. Be forewarned that the service has been called "sloppy" and the prices are high (about $300 for a dress).
Related Reading:
---
Return to Enjoy Your Style's women's dresses section.
Return to Enjoy Your Style's subcultures section.
Return to Enjoy Your Style's home page.
Search Enjoy Your Style: