Please Kill Me
An Uncensored Oral History of Punk
by Legs McNeil and Gillian McCain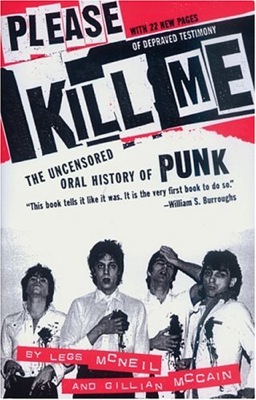 Please Kill Me
chronicles punk rock from its origins in late 1960s New York to the its first wave's conclusion in 1980. The book is an "uncensored oral history," and because few of its chief players are famous, we can take that appellation at face value. Tales of drug use, drug abuse, violent altercations, strange rooms and theatrics (on and off the stage) make this absorbing literature, especially when written in the words of people who lived through it.
Like No Wave, a contemporaneous art and music scene, punk was more influential than profitable. The book focuses on the musical and social aspects of punk, although it does delve into other areas, such as fashion, sex, the lives of groupies, junkies and people like Anya Phillips, an impresario, model, dominatrix and one of the book's most fascinating characters.
If you're looking for a history of punk fashion, this is not the right book. Fashion is mentioned and, at some points, even discussed in depth. Some printings have three photo sections, so you can see what these fashions looked like instead of just reading about them. In this book, you can learn how glitter rock came to be, how the Velvet Underground's wardrobe shocked bohemian New York, how the Sex Pistols (and other groups) used the swastika to shock the bourgeoisie.
The focus, however, is on the people in this movement, and, to a lesser extent, the music they created. I strongly recommend this book for its value as an historical document, and as an interesting read. But I would not call it a fashion book.
Buy Please Kill Me
at Amazon.com
.
Related Reading:
---
Return to Enjoy Your Style's books on style page.
Return to Enjoy Your Style's subcultures page.
Return to Enjoy Your Style's home page.
Not what you're looking for? Find it, below: